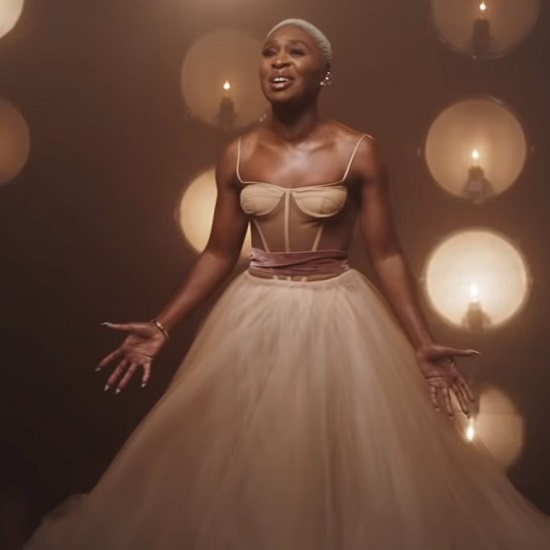 Since its November 1st release, Kasi Lemmons' Harriet has been shown on over 2,100 screens, earning a solid $23 million and counting. While there has been some controversy/nontroversy surrounding the film based on Harriet Tubman's life, one thing everyone can agree on is that Cynthia Erivo is magnificent in the title role. The British-Nigerian actress/singer may very well secure EGOT status next year (she already has 3 out of four) – not just for her brilliant portrayal, but also for the movie's end-credits song "Stand Up."
Ms. Erivo co-wrote the powerful song with Joshuah Brian Campbell ("Sing Out/March On") and delivers a stirring theme that embodies the spirit of the iconic freedom fighter. As she recently explained to Billboard, "The song, for me, is a thank you to Harriet - an expression of hope, strength and inspiration to do good for one another." Cynthia digs into her lower register throughout a dramatic intro punctuated by bass drum and handclaps. As she moves into the chorus, backed by a piano and gospel choir, her voice begins to soar as she declares, "I'm gonna stand up / Take my people with me / Together we are going to a brand new home / Far across the river / Can you hear freedom calling? / Calling me to answer / Gonna keep on keeping on / I can feel it in my bones."
Now she brings the anthem to the small screen in a stunning music video directed by Sam Wrench. On an empty soundstage illuminated by theatrical lights, Cynthia's performance is simply breathtaking as she delivers an emotional performance in gorgeous Vera Wang Collection gowns. The cinematic setting doesn't overpower the song; it retains its poignancy until the final note, with Erivo singing Ms. Tubman's (reported) last utterance before her death, "I go to prepare a place for you."  These words, spoken by Jesus in John 14:2, acknowledge the source of Harriet's strength and the promise of true freedom.
Watch the remarkable visuals for "Stand Up" below, then keep scrolling for a "behind-the-scenes" look at the studio recording via the song's lyric video. "Stand Up" is available for download at all major digital outlets while Harriet is showing at a theater near you.