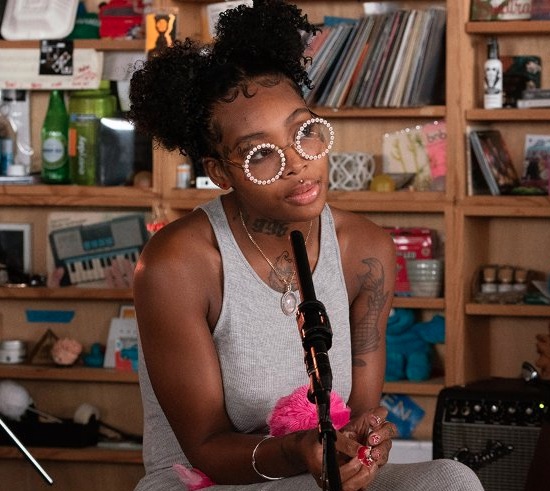 NPR Music has been bringing some big names in R&B to their Tiny Desk Concert series lately. In the past month alone, they've welcomed The-Dream and Ari Lennox to step up to the infamous desk. The most recent R&B singer to pull up on NPR's headquarters is the chart-topping and history-making songstress Summer Walker who battled a serious case of nerves and social anxiety to perform for the cameras and intimate audience.
The tattooed and pierced singer appeared quite shy and demure (for her, at least) on Tiny Desk. Dressed in a sleeveless grey maxi-dress and pearl-adorned spectacles, Walker sat on a stool with a bright pink stuffed animal in her lap, who she later introduced as "Friend." Aside from her emotional support toy, she was joined by a group of talented musicians who helped her to bring songs from her discography alive. She began her mini-concert with "Session 32" and strummed away her pain on a Fender guitar. Summer's chill performance was enhanced by warm lighting installed just for her performance. She smoothly segued into "Wasted" before launching into her breakthrough, sex-positive single "Girls Need Love." She had the band introduce themselves, then picked up her set with "Riot" prior to ending her show with current single "Playing Games" from her hit album Over It.
We applaud Summer Walker for pushing through this Tiny Desk performance despite her issues and hope that she's getting the therapy – and love – that she needs.