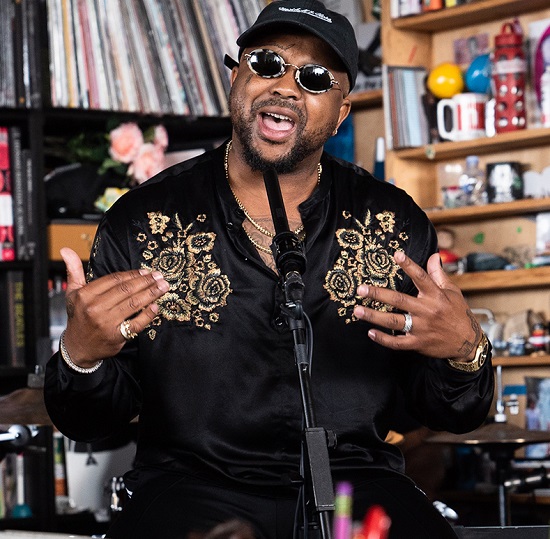 The-Dream first broke out as a solo artist way back in 2007. Since then, he's been delivering his freaky brand of R&B to the masses in front of the mic and behind the scenes. Last year, he dropped his most recent album Ménage à Trois: Sextape Vol. 1, 2, 3 — delivering 40 songs that capitalized on his penchant to discuss the sexual side of things in his work (including a few certified jams). The album didn't sell quite the way he's used to but he's still making sure to plug it when he can, including making a recent stop by NPR Music's famed tiny desk to put on a three-song show for the respected Tiny Desk Concert series.
He went mostly with his new material for the set, kicking things off with "Bedroom." The sexy track was a bit of a different selection for the daytime audience, which Dream himself acknowledged during the set ("It's kinda hard to sing like that with the daylight out," he said after the track was done). Still, the song set the sensual tone that the rest of the brief show ran with. Him and his band — which included a keyboardist, guitar player, drummer and horn players — moved on to "Back In Love," which was a little tamer (though not by much). He then reached back to the beginning of his solo career for his 2007 single "I Luv Your Girl." The rousing jam about stealing another man's girl was a welcome throwback that not only brought a smile to The-Dream's face but also clarified a few misinterpreted lyrics while playfully omitting the explicit vamp that folks love to shout in the club.
The-Dream's performance isn't going down in the Tiny Desk hall of fame, but hearing the live arrangements definitely showed different sides to his previous hits. Check out the Radio Killa himself at Tiny Desk in the video below.