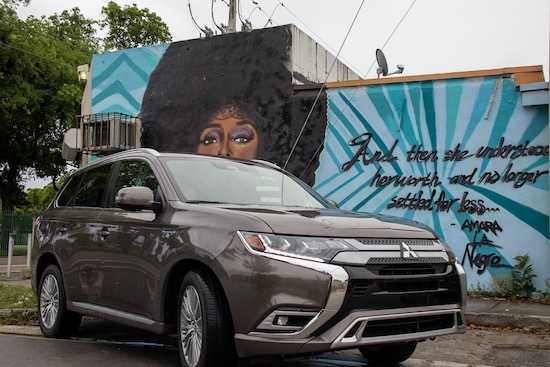 As the 23rd Annual American Black Film Festival (ABFF) arrived in Miami Beach, Team SoulBounce was on the scene ready to soak up some sun and take in all of the Black excellence in film, television, comedy and music. Unfortunately, ABFF's attendees weren't the only ones to show up en masse – hurricane season and lots of rain did, too. Undaunted by the daily deluges, we traversed Miami in the stylish comfort of Carlotta, our 2019 Mitsubishi Outlander PHEV.
We drove the Mitsubishi Outlander to Wakanda a year ago. So, we were looking forward to round two in the 2019 electric and gas hybrid PHEV. The sassy mid-size SUV crossover was perfect for an especially soggy Miami. The slick roads and intermittent heavy rains were no match for this vehicle. Blind spot warning with lane change assist, rear cross traffic alert, forward collision mitigation and the multi-view camera system kept us safe and rolling through the pea soup visibility and stop-and-go city and highway traffic. Not to be left out, the rain-sensing wipers saved us from the frustration of adjusting the speed every two seconds to keep up with drizzles to downpours.
Before saying farewell to Miami, we had to cruise its outdoor art galleries. The urban art and graffiti-covered walls of neighborhoods like Little Havana, Overtown, Liberty City and Wynwood beckoned to us. Our driving tour of the bold and vibrant fusion of color and culture kicked off with a stroll down Biscayne Boulevard. Standing tall and unwavering like its strong and resilient people was the larger-than-life Puerto Rican flag that covered the façade of La Placita Restaurant. The massive building wrapped in red, white and blue was an entire mood. Viva Puerto Rico!
After posting up for some pictures, we locked in the GPS coordinates for Wynwood and continued our drive. Within a mile or two were we captivated by an explosion of graphic imagery in vivacious hues, tones and shades. From the carefree colors of Graffiti Gardens to a larger-than-life mural of reality star/performer Amara La Negra with a powerful quote, it was a vivid feast of talent, passion and creativity.
The 2019 Mitsubishi Outlander PHEV was a well-equipped and fashionable vehicle to travel around South Florida in. Carlotta kept us cool, comfortable and dry as we whizzed around Miami's culture-fueled and art-filled streets.
no images were found
- Advertisement -