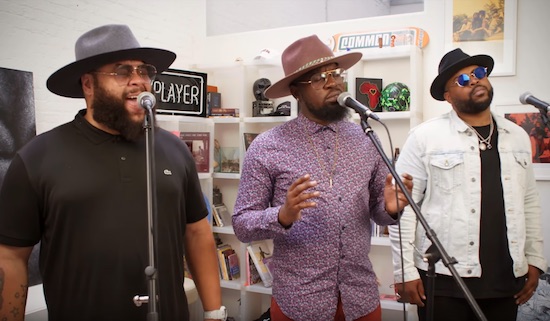 Babymaking music maestros, viral soul sensations and Anthony Hamilton's former (say it ain't so, fellas!) background singers, The Hamiltones recently stopped by OkayPlayer's Okay Space in NYC and shared few songs from their debut EP, Watch The Ton3s. Of course, no Hamiltones performance is complete without one of their soulful ass covers, and the trio come through dripping with their rendition of Lil Nas X's "Old Town Road."
Their performance started with an acoustic version of their ballad "Gotta Be Loving Me" with their rich harmonies filling the small room like a 30-piece orchestra. They then launched into their track "Pieces." While the previous song showed us what the group could do, they prove on the percolating slow jam that they still have more surprises with their miraculous and multifaceted voices. Finally, 2E, J. Vito and Tony Lelo give us an old school, country version of "Old Town Road." And we mean country, country. The guys go full deep South cornbread, fish and collard greens when singing the chorus. At the performance's end, they even give us some good old boy cowboy hooping and hollering.
The Hamiltones are currently on their own sans Anthony Hamilton (Lawd, it's gonna take us a minute to face this fact) touring the country in support of their new EP and will be making a special stop at this year's ESSENCE Festival. You can check out their full tour schedule by visiting their website. Until you get a chance to witness them live onstage, hit play below to get into the next best thing.