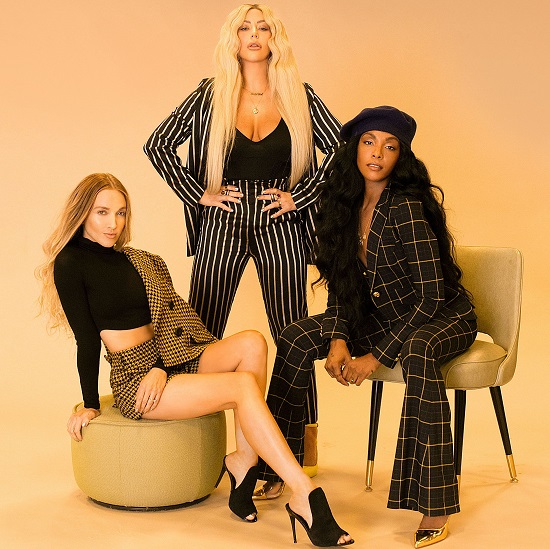 Though Danity Kane has been through its share of ups and a helluva lot of downs, the ladies (or, at least, consistent members Aubrey O'Day, Shannon Bex and Dawn Richard) always seem to find their way back to each other. They did just that this past fall when the ladies got back together for their The Universe Is Undefeated reunion tour. Now it looks like the trio has found some time to book a studio as well, with the result being their new single "Neon Lights."
The new track is reflective of their time apart — when Richard found her eclectic solo voice as DAWN and O'Day and Bex went full on dance-pop as duo dumblonde. This song seems to be a combination of those separate sounds. The flashy, glittery pop sound of dumblonde is given some play with synth horn stabs that adorn the chorus and verses. Meanwhile, the darker, rumbling bass and flirtation with future-leaning R&B are hallmarks of DAWN's work. The two worlds actually combine quite nicely as the ladies sing. The song first starts with Aubrey, who sings over torch-song-ready piano about a night that was meant for wilding out on the town. Dawn soon joins in just before the beat slips into an electro-dance groove that sticks around for the rest of the track. The music is just as dizzying as the night they describe, letting us know that "it's just one of them nights" to get lost in the music and the feeling.
Say what you will about Danity Kane, but the trio has never disappointed in the hit-making department and "Neon Lights" is another stunner of a track. Get lit up by DK when you press play.