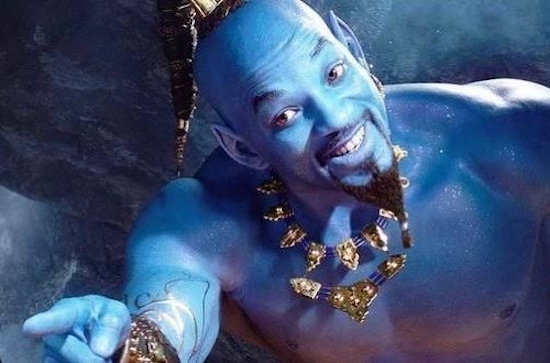 Aladdin, the classic Disney cartoon movie, has been remade into a live action film starring everyone's favorite social media dad, Will Smith. The original rapper-turnt-actor gets to stretch both of his talents in the film playing the Genie, originally voiced by the late Robin Williams, and contributing to the soundtrack. How well does Will do in the film? Well, you'll have to see for yourself this weekend. But you can judge his singing right now by listening to his version of the classic song, "Friend Like Me." Will gives us the classic version in the movie and also adds a remix during the end credits featuring the father of Asahd himself, DJ Khaled. Did Will live up to Robin's legendary vocal performance, or will the legend in his own right make the song his own?
Well, Will can't be Robin Williams, and thankfully he doesn't try. Smith pretty much sticks to the script but borrows his cadence from his early rap days. It wouldn't be odd to imagine "Parents Just Don't Understand" mixed into the track. But that's also kind of a negative as Will isn't a singer and isn't quite able to harmonize on the track.
For the version from the end credits, Will let's us know the party ain't over.  On the DJ Khaled-assisted version, Will takes the original song and flips it into a remix, adding more Indian flutes and a little boom bap. While purists won't be checking for the remix, it could actually be a better song because it plays up Will's strengths as a rapper, even if it sounds like something from his Big Willie era.
You can see Will, along with Aladdin, Princess Jazmine, Jafar and the rest of the crew from Agrabah this weekend and journey to a whole new world. For now, hit play below and let us know if Big Willie is the friend you always wanted.