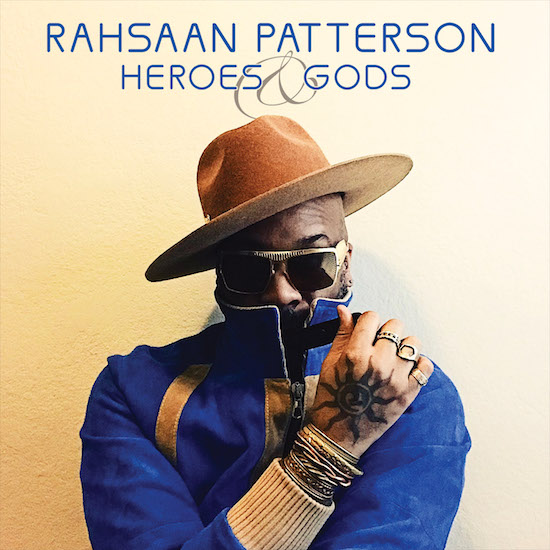 It's been an exercise in patience over the past few years being a Rahsaan Patterson fan. Sure, he's toured and dropped a loosie here and there since releasing his album Bleuphoria in 2011, but we didn't expect that he'd keep us waiting almost eight years between albums. But here we are. The good news is that our patience has indeed paid off, and Rahsaan will be blessing the world with his sixth studio album, Heroes & Gods, on Friday, May 17th. To get us good and ready for its release, he's already debuted the stunning lead single "Sent From Heaven" and now he's unveiled the album cover and tracklist for us to salivate over.
The always photogenic Patterson plays it cool for the Heroes & Gods cover art. Dressed in a royal blue jacket with tan accents, his handsome face is mostly concealed by the collar and dark sunglasses. Yet and still, he delivers swag for days with his stance, jewelry and hat cocked ever-so-perfectly to the side. The album cover is eye-catching, but it's the tracklist that really has our undivided attention.
Heroes & Gods will feature a total of 13 tracks, including the aforementioned "Sent From Heaven," and songs entitled "Rock And Roll," "Break It Down" and "Wide Awake." Rahsaan has also added previously released jams "Wonderful Star" and "Silly Love Fool," both of which surfaced in 2018, into the mix. In addition to his original material, Patterson has included a remake on the project, a cover of the Luther Vandross classic "Don't You Know That" from his 1981 album Never Too Much.
Rahsaan Patterson's Heroes & Gods is available for pre-order right now on Amazon, iTunes and Google Play. If you know like we know, you'll go ahead and make the investment now because this album is worth every penny and a hefty tip.
Rahsaan Patterson Heroes & Gods tracklist:
1. Catch Me When I Fall
2. Wonderful Star
3. Silly Love Fool
4. Rock And Roll
5. Break It Down
6. Don't You Know That
7. Sent From Heaven
8. Wide Awake
9. Soldier
10. Oxford Blues
11. Sweet Memories
12. I Try
13. Heroes & Gods

- Advertisement -