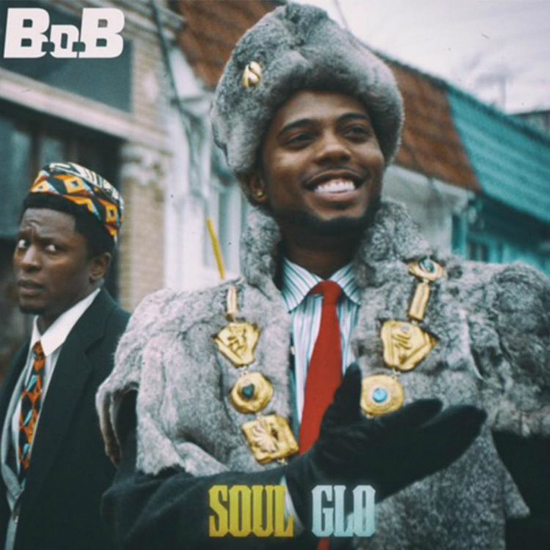 Your cousins' favorite Flat Earther B.o.B is back with a new joint ready to set your soul on fire. Or, in this case, make your soul glow. The "Airplanes" rapper has taken the infamous Soul Glo commercial from Eddie Murphy's classic comedy Coming to America and turned it into an inspirational track. But, like the scene of Randy Watson and Sexual Chocolate singing "The Greatest Love Of All," the message of hope and takes a backseat to humor.
On "Soul Glo," B.o.B offers a bit of encouragement for his fellow black man: "Modern programs from the projects, it's a project to stop your progress / To keep you obsessed with fancy objects, to crack your third eye it's a process / It's a hot mess out here for a melanated n***a / I stay meditating n***a." His infinite wisdom is laid atop a sound bed composed of a chopped up sample of the "Soul Glo" jingle, quotes from the film and as much '80s saxophone as you can stand. At times, the theatrics of the production overwhelm the message of the song. While the MC spits game about getting up, getting out and getting something, the frenetic pace of the song, random sound bites and the melisma from the background singer take away from the intent of the track.
The theatrics continue in the video for the track. B.o.B and his team do a great job of recreating the look and feel of the film. But, they might play it off for laughs just a wee bit too much. The rapper is superimposed into the infamous Prince Akeem bathing scene, while reenacting other scenes like the Ms. Black Awareness Pageant, and, just in case there were any jokes from the movie he might miss, there's also an old school television set showing actual clips from the film.
We gotta give B.o.B his props, he does a great job of recreating some of the classic scenes and looks. The creativity at work and a decent budget are apparent, and the music video does have its fun nostalgic moments that we can't deny.