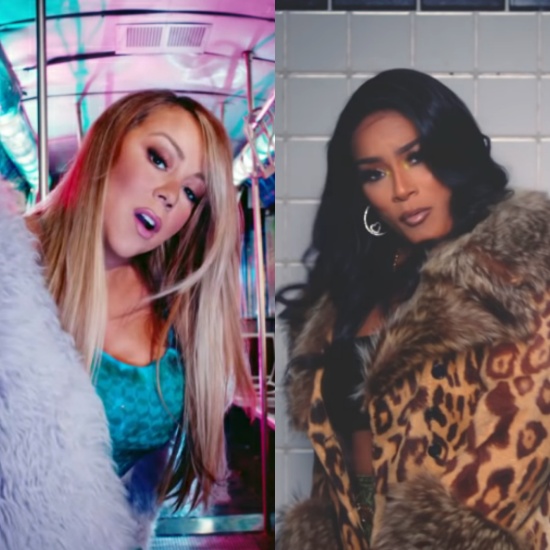 "So you know we had to do a remix, right?"
That was Diddy's catchphrase in the '90s, known for his Bad Boy remixes that sometimes were more popular than the original song. If Diddy was king of the remix, then Mariah Carey was the queen, delivering multiple versions of her own hit records, from "Honey" to the Xscape version of "Always Be My Baby." Keeping with this '90s flavor, Mariah has shared a remix  to the "Crush On You" sampling "A No No." While Lil Kim, Cardi B. and Missy "Misdemeanor" Elliott were rumored to be on the remix, that particular fan-casting didn't happen. According to Jermaine Dupri, there was some drama behind the scenes that may or may not have impacted why the Queen Bee didn't show up on the record. Instead, we're treated to a hot 16 from up-and-coming British rapper Stefflon Don.
The remix doesn't stray far from the original version. It's the same whistle notes over "Crush On You," with a few ad-libs from Steff. On the bridge, Steff takes the spotlight, attempting to spit hot fiyah over her shero's classic. "The name's Don / And they don't call me that for nothin' / Fear ain't in my blood, I ain't scared of nothin' / I take the trash out / Brothers wan' play me, I blow they back out / I ain't with the he say, she say, get the strap out," Don confidently raps, although her bars don't really blend with the song.
The video is also largely the same as its predecessor, except for Steff getting her own scene in a subway station. Decked out in her own diva fur and party dress, she smizes and flips her hair for the camera. A few dancers also get some screentime in the subway station set. Unfortunately, that's all we get of Don, who doesn't share a scene with Carey. It almost feels like Steff missed the party train and is waiting for Mariah to swing back. It's obvious that their scenes were shot separately, but it does feel weird that the two artists don't actually share the spotlight. This is a bit disappointing because of Mariah's past remix videos and her chemistry with her co-stars, such as the aforementioned Elliott and Da Brat in the "Heartbreaker" remix video. Instead, we get Jay Z's 11th hour cameo in the original.
The two stars not sharing a scene and the disappointment of fans who were hoping to really get a nostalgic remix have truthfully hurt the track, which is unfortunate because Steff does come hard on her verse. Neither a "Yes!" nor "A No No," we can take or leave this remix.
- Advertisement -