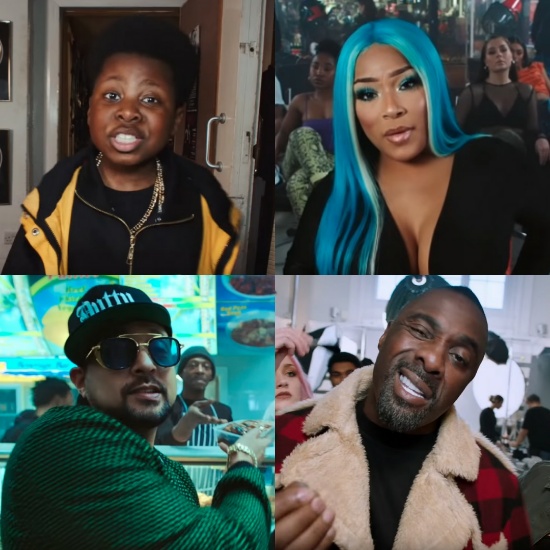 Several months have gone by since UK rapper Wiley was supposed to deliver the final installment of his Godfather album series. While true Eskiboy fans aren't surprised by the delayed release of Godfather III, it helps that he's been fairly generous, dropping a new single each month since the year began. One track in particular, a remix of his 2018 single "Boasty," featuring Sean Paul, Stefflon Don and Idris Elba, has been generating lots of buzz since it first premiered in January. It's only fitting, then, that the Godfather of Grime give it the grandiloquent visual treatment it deserves.
Directed by Henry Scholfield, the highly entertaining clip starts out with a phone call between Wiley and a young superstar (played by Brooklyn Appiah). Apparently, the "Boasty" rapper is a bit held up at the moment – as shown through a clever video game sequence – and won't be able to make his music video shoot. The young lad is having none of that, especially since he wants to get paid the "big bills," so he promptly offers a solution. "I'll be you!" he declares, not waiting for Wiley's approval.
From there, the track's featured artists take turns showing off, lyrically and visually. Stefflon and her girl squad show 'em who's boss while Sean laces the track with his dancehall swag. Idris has no problem reminding us of his musical prowess, spitting an impressive verse that manages to shout-out his fiancée (Sabrina Dhowre, who makes a cameo) and the fact that he DJ'd for the The Duke and Duchess of Sussex (that's Prince Harry and Meghan Markle for you commoners). Though Wiley never appears in person, we do get to see him via his 8-bit avatar and a painting depicting him as a superhero.
Scholfield expounds on the video concept, saying, "I liked this idea of the artists all competing for lyrical screen-space with them crumpling, folding, or stomping on each other to bring us from one to the next. It had a kinda vibe of bigupmanship and a visual riff on who's the boasty-iest… to say it was a shoot to remember would be a bit of an understatement. What a killer quartet of awesome artists."
Scroll down to get your "Boasty" fix, download the track for your playlist and follow Wiley on Twitter and Instagram for updates on the Godfather III release.
- Advertisement -