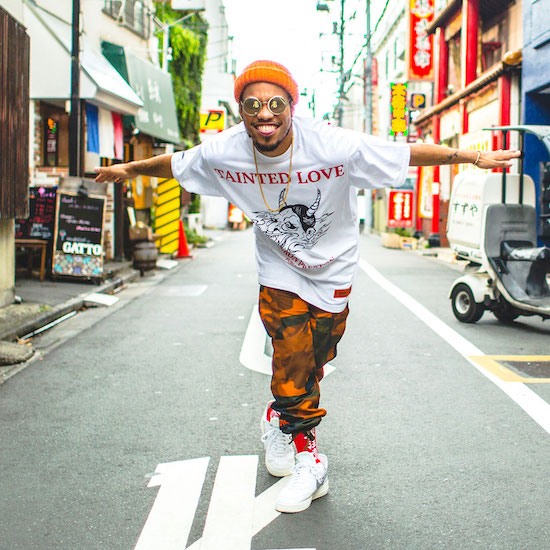 If you're anything like us, then you are still bumping Anderson .Paak's latest album, Oxnard. After all, it just dropped back in November, and he is currently on the road supporting the album as we speak. However, as we learned just a few weeks ago, that isn't stopping the multi-talented artist from keeping his foot on our necks after he announced that Oxnard's follow-up Ventura would be dropping April 12th and he'd be heading back out on the road when his Best Teef In The Game Tour launches in May. Now he continues to deliver with the release of Ventura's cover art along with the tracklist and first single taken from the album, "King James."
On the uptempo horn-tinged single, .Paak pays homage to both Lebron James and Colin Kapernick and the work the two athletes are doing on the social justice front. "We couldn't stand to see our children shot dead in the streets / But when I finally took a knee / Them crackers took me out the league / Now I'm not much for games / But I play for keeps / And we salute King James for using his chains / To create some equal opportunities," he sings on the song's second verse in his signature raspy voice. While the song is definitely a bop, .Paak uses the single to get a lot of observations about society's current situation and how it relates to the Black community.
His pointed stance isn't completely accidental as he revealed in a recent interview. After letting his label head and mentor Dr. Dre largely drive the direction of Oxnard, .Paak was able to be more flexible with the direction of Ventura after Dre pretty much gave him full control. "[Dre] let me have a lot of leeway on 'Ventura.' He was like, it seems like you got it. I spread my wings on the production and on the writing and on these collaborations," he revealed during the interview.
The result is the 11-track project whose tracklist he also unveiled this week. Ventura is set to feature appearances from André 300,  Jazmine Sullivan, Sonyae Elise, Brandy and Lalah Hathaway. He also was able to enlist the legendary Smokey Robinson on the album's second track, "Make It Better," in addition to vocals from the late Nate Dogg on the album's closing track, "What Can We Do?"
Additionally, .Paak also revealed the album's cover, a simple design that features a touching black-and-white image of him and the newest addition to his family as its focal point. Check out the album artwork and the message .Paak is spreading on "King James" below and be sure to pre-order your copy of Ventura before it hits stores April 14th.
- Advertisement -
Anderson .Paak Ventura tracklist:
1. Come Home (feat. André 3000)
2. Make It Better (feat. Smokey Robinson)
3. Reachin' 2 Much (feat. Lalah Hathaway)
4. Winners Circle
5. Good Heels (feat. Jazmine Sullivan)
6. Yada Yada
7. King James
8. Chosen One (feat. Sonyae Elise)
9. Jet Black (feat. Brandy)
10. Twilight
11. What Can We Do? (feat. Nate Dogg)

- Advertisement -