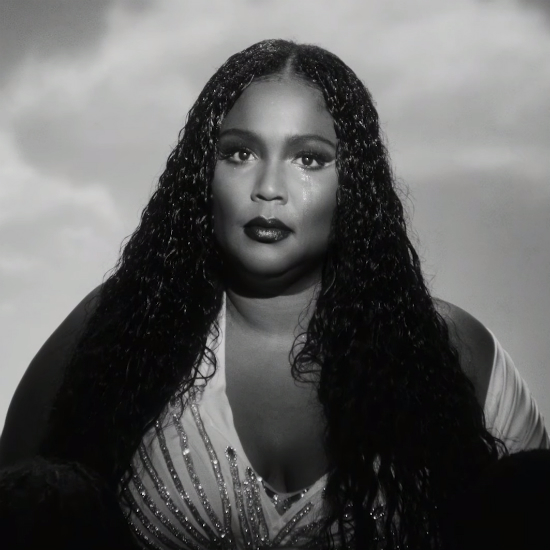 Lizzo is on a mission to get you to love her, and if you didn't get it before, she's spelling it out for you in her new single "Cuz I Love You." The title track of her forthcoming album CUZ I LOVE YOU, comes with an artsy black and white video that showcases Lizzo and her finest belting. Just in time for Valentine's Day (or Singles Awareness Day, if you will), the ballad will pull at your heartstrings with her vocal range as she sings, "I'm crying / Cuz I love you," like she really means it.  The Quinn Wilson-directed video itself is stunning, with its vintage look and beautiful shots of the curvy queen.
Lizzo is extremely passionate as she stands in a church pulpit dressed in a white dress, with an audience of crying Black men filling the pews. The tears will catch you off guard, but they go along with the song perfectly as she sings about never experiencing love and finally falling for a new beau. She preaches her emotional gospel over a percussion heavy instrumental as we watch tears spill from the men's eyes. The visual ends with the men gathered around Lizzo's feet like she's their savior, while a single tear runs down her cheek as the camera focuses in.
Lizzo has brought the drama not only in the "Cuz I Love You" video but in her recent major TV appearances on The Tonight Show Starring Jimmy Fallon and The Ellen DeGeneres Show ahead of the release of her major label debut album on April 19th. She also plays Coachella in April and kicks off her tour on April 24th, which you can learn more about on her website. Watch the video for "Cuz I Love You" right here and have a box of tissues close if you have a case of the feels today.