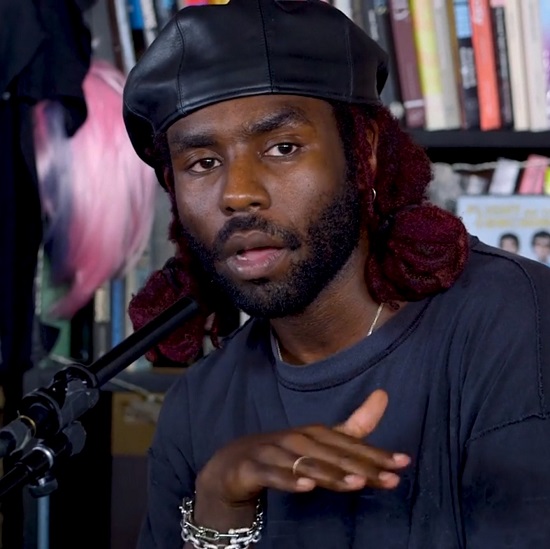 Blood Orange delivered his anticipated fourth album Negro Swan last summer, much to the delight of music lovers everywhere. The acclaimed project, his most personal to date, was created not just to tell his story, but to help others find hope in knowing they're not alone in their struggles. This is the message of love and light that he brought to Washington, D.C. when he stopped by NPR's Tiny Desk Concert Series.
Mr. Hynes begins the set with a stirring performance of "By Ourselves" from his 2016 album Freetown Sound. Background singers Eva Tolkin and Ian Isiah almost sound like one voice while he plays the beautiful piano arrangement. The real standout here, though, is spoken word artist Ashley Haze (who is also featured in the original) as she delivers a powerful message about self-love and acceptance that doubles as an ode to Missy Elliott.
From there, Dev turns his focus to Negro Swan for the remainder of the set. The multi-faceted artist swaps places with Mikey Freedom Hart on the keys for a lovely performance of "Jewelry." The beautiful harmonies created by the vocal trio, floating over Hart's jazzy piano and Jason Arce's smooth saxophone and clarinet are quite mesmerizing. It also makes for an effective textural contrast when Hynes picks up an electric guitar and begins rapping, "N***a, I'm feeling myself."
Isiah then proceeds to shatter our proverbial wine glasses with his falsetto register when the ensemble takes us to church for The Clark Sisters-inspired "Holy Will." The audience was clearly impressed and moved by the updated twist on a gospel classic. Hynes then closes the set with the deeply personal "Dagenham Dream" – a song that recalls how he was bullied and jumped in his youth. The incident landed him in the hospital and caused him to retreat into himself, hiding who was and using skateboarding to escape. Thankfully, he found his voice again, and we're all the better for it.
Watch the performance below, then scroll down to see dates of Blood Orange's upcoming tour. In addition to the listed tour stops, he's also scheduled to perform at several festivals this year, including Coachella and The Governors Ball. Visit his website for ticket info and purchase your copy of Negro Swan if it's not on your current playlist.
Blood Orange 2019 Tour dates:
02/16 – Mexico City, MX @ Bahidora Festival
02/17 – Miami, FL @ III Points Festival
02/19 – New Orleans, LA @ Joy Theater
02/20 – Houston, TX @ White Oak Music Hall
02/22 – Austin, TX @ Emo's
02/23 – Dallas, TX @ Granada Theatre
02/25 – Atlanta, GA @ Variety Playhouse
02/26 – Nashville, TN @ Cannery Ballroom
02/27 – Asheville, NC @ Orange Peel
03/01 – Baltimore, MD @ Rams Head Live!
03/02 – Richmond, VA @ The National

- Advertisement -