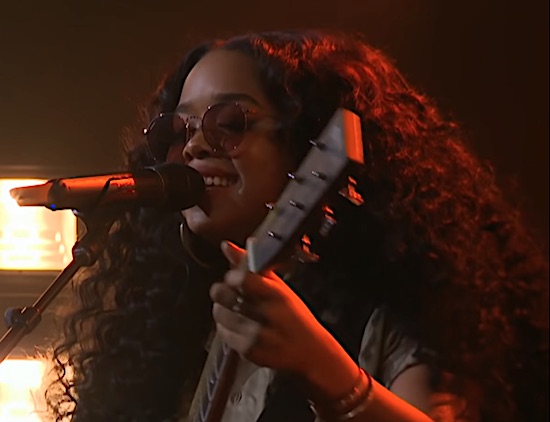 With the mystery out of the bag, H.E.R. hasn't been shying away from the spotlight these days. As her profile soars higher and higher, we should expect to see more of the wavy-tressed singer on stages and our TV screens. Speaking of which, the singer-songwriter made yet another late-night television stop this week, this time gracing the stage of The Late Late Show With James Corden with her unique take on soul and R&B.
H.E.R. breezed through Stage 56 with a funky performance of her I Used To Know Her: Part 2 track "Carried Away," which she's been showing off for quite a while now. Though we've seen her perform it before, she breathed new life into the track with a brief but unforgettable set. She started things simply enough by singing and accompanying herself on acoustic guitar while backed by her band. Obviously feeling herself and the song's groove, she allowed herself to get lost in the song's groove and took the audience along for the journey with her. Then, just when the audience thought they knew was coming next, she broke things down and switch to bass guitar to pick up the song's groove. She played it just as well as she did the acoustic guitar (if not better) before she switched over to keys for an organ solo while the background singers went to church. Having played three (yes, three!) different instruments in less than five minutes, she then returned to the mic to bring it on home. To paraphrase Coming To America's barbershop owner Clarence, that girl good!
If she's putting it down like this, we absolutely can't wait to see what she does when she inevitably hits the GRAMMY stage next month. Until then, check out H.E.R. showing out on The Late Late Show right here.