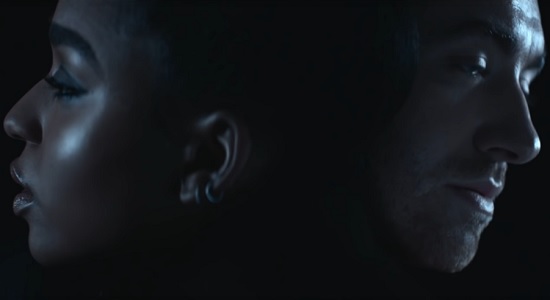 Sam Smith and Normani may just have a hit on their hands with the slow-burning duet "Dancing With A Stranger." Since its release, the song has worked its way to the top of the charts in several countries and debuted at No. 33 on the Billboard Hot 100 last week. With the vocal chemistry between the two being pretty solid in our book, we can only see the pop-R&B track going even further, especially since the single's video has just been released to the masses.
In the clip, we open with Sam doing what he doing what he does best: brooding alone in an empty room. Well, he's not exactly alone, as he seems to be surrounded by both his thoughts and holographic dancers who appear alongside him. He fixes the camera with an intense stare as the video's toned-down lighting imbues the loneliness of the song's lyrics. For Normani's part, she's also shown showing off some of her best talents. We first see the talented beauty lying alone in bed as she moves to the song's beat. That soon turns into a full-out solo dance routine during the second chorus of the song before she settles into solemn brooding just as Sam does throughout the clips runtime. The two don't appear together in the clip until almost at the end, where they're shown leaning into each other, with each singer looking in opposite directions as they sing.
The clip manages to both capture the feel of the song and the viewer's eye with a simple yet effective concept that's sure to have everyone in their feels. See what we mean when you watch "Dancing With A Stranger" right here.