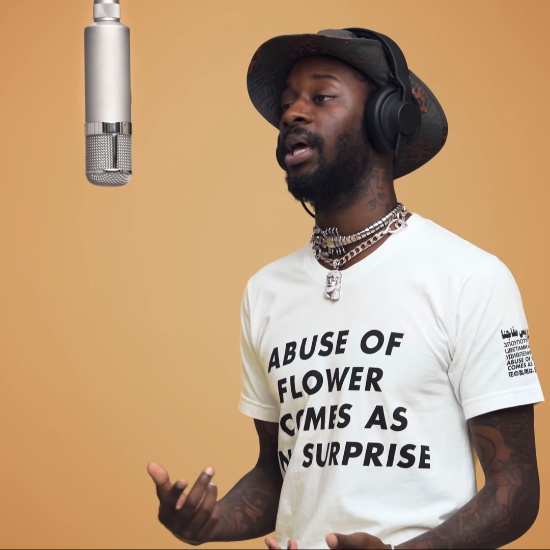 DMV's own GoldLink decided to kick off the new year in a contemplative fashion. For his second appearance on the COLORS platform (the only artist to do so), he chose to bless fans with an exclusive performance of the WaveIQ-produced track "Justine's Interlude." In front of a beige backdrop, sporting black jeans and a tee that reads, "Abuse of Flower Comes as No Surprise," GoldLink makes himself at home, though it's clear he has a lot on his mind.
Over a mellow groove, he settles into a flow that feels like a freestyle stream of consciousness. He touches on a variety of subjects including fame, love and appreciation for the support of his friends. Social media is likely to have a field day attaching certain bars to those of his inner circle like, "Tired of fancy dinners / I'm tired of diamond ballin' / I'm tired of hearin' bout if this n***a put hands on ya." After recalling a conversation he had with Mac Miller just prior to his death, he dives into a lyrical wave about the women in his life, singling out one in particular saying, "You one of my six women that's in the East / I hate makin' promises that I never keep / So promise to never, ever be too patient with me / Justine, promise me." Between the track's title and the content, cyber code crackers have already framed it as an ode to singer/songwriter and close friend Justine Skye, who previously used the video for her single "Build" to open up about her experience with domestic abuse.
Watch GoldLink's COLORS performance of "Justine's Interlude" below, and keep an eye out for his laid-back and seemingly shady version of The Harlem Shake at the end. There's no word on whether or not this track will appear on a forthcoming album, but most are assuming it will. In the meantime, West Coast Bouncers can grab tickets to catch his headlining performance at the Soulection Experience next month in Los Angeles.