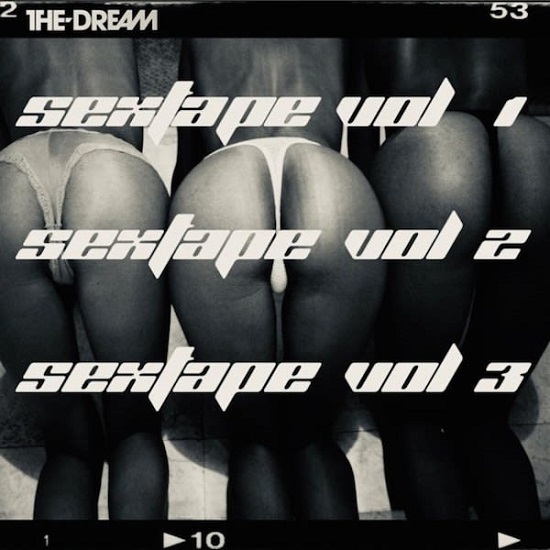 He may be the creator of many a pop hit, but when it comes to his solo work The-Dream is known to bring on the raunch. It's not surprising, then, that his newest album is named Ménage à Trois: Sextape Vol. 1, 2, 3. What is surprising, however, is that he's gone full Chris Brown, giving us a 40-song effort dedicated to his libido. We already know that Dream is DTF, but are we down to listen?
Well, as we know, The-Dream is usually at his best when he has sex on the brain and that proves true for the first few songs of each volume. Especially Vol. 1, which hits the ground running with a four-stretch that kicks off with "No Rappers Alive" and ends with "Back In Love." However, with tempos and subject matter rarely changing, things can get a little tiring rather quickly. It's also surprising that the Radio Killa doesn't include anything here too radio friendly. He's always had a penchant for the explicit, but even a few bleeps and edits won't change the fact that this is music that doesn't really hook in ways that previous hits like "I Luv Your Girl" or jams that he's written for others have. But perhaps hits aren't the point as much as making music to "hit it" to (if you know what we mean). To that effect, we can definitely see a situation soundtracked by songs like "Runaway Sex" and "Pull Out."
In addition to dropping the album, he's also given us a nine-minute clip that encapsulates the first volume of Ménage, "Sextape Vol. 1." As expected, the clip features the singer dripping in gold and designer labels while being entertained by women in various states of dress (and undress). It focuses on the album's first four tracks: "Hardcore Pleasure," "No Rappers Allowed," "Forever" and "Challenger." We follow him in the self-directed clip as he boots into a VR fantasy in different settings — from a gold-plated dream filled with video vixens to a starlit room filled with video vixens to a desert filled with video vixens (we think you can get the point by now). The camera eyes the women as if we were The-Dream himself, making us voyeurs as well when it lingers on the ladies' bodies as they pose.
If a 40-track album and nine-minute video aren't enough for you, be also advised that The-Dream is taking his show on the road this February, kicking things off on February 10th in Seattle before hitting LA, San Francisco, Atlanta, Charlotte, D.C. and New York before wrapping in Chicago on February 28th. Tickets for the dates are on sale now, so if you want to see Mr. Radio Killa himself get nasty live and in person, we'd suggest you get on it. But before you do that, head below to stream the three-volume Ménage à Trois via Spotify, watch "Sextape Vol. 1" and check out the full tour flyer.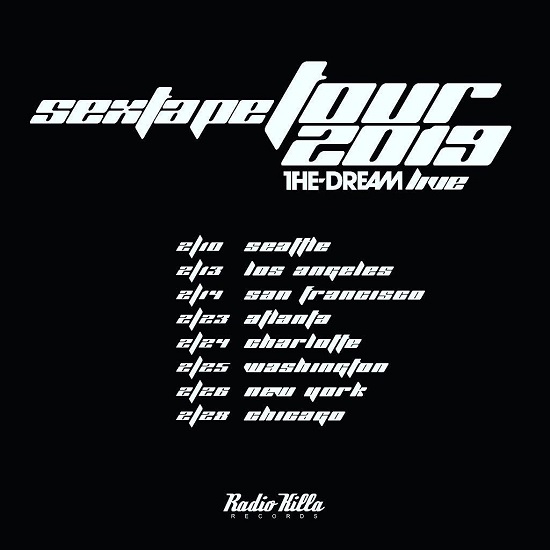 - Advertisement -