On the same day that it was announced that her self-titled debut album landed at No. 5 on the Billboard 200 chart in its first week of release, Ella Mai keeps the good news coming with the announcement of her next move. In 2019, Ella will take her music to the masses all over the world on The Debut Tour.
Following her Boo'd Up Tour that took her around a handful of U.S. cities this past August and tagging along with Bruno Mars on the finale of the 24K Magic World Tour this month, The Debut Tour kicks off this coming January in Europe. The first date is January 8, 2019 in Birmingham before hitting a couple other locations in the UK including Manchester and her hometown of London. From there she'll take stages in Paris, Amsterdam, Berlin, Stockholm and more before ending the European leg in Oslo, Norway on January 24th.
Ella will take a break of a couple weeks for awards season (hey, GRAMMY Awards, hey!) before picking the tour back up for its North American leg in February. Her first stop then will be Vancouver, Canada on February 12th. She will then dip down in the United States for dates in Seattle, Oakland, Las Vegas, Detroit, Boston, Philadelphia, Atlanta, Fort Lauderdale and Houston to name a few before wrapping things up in San Antonio, Texas.
The Debut Tour will find Ella Mai traveling to a total of 39 cities through the end of March. The tour is presented by her label 10 Summers and any opening acts are currently to be announced. Fans don't have to guess when tickets will be available, however. They will be going on sale on Friday, October 26th at 10 a.m. local venue time via her official website. Peep all of the tour dates, cities and venues below and get your coins together by this Friday!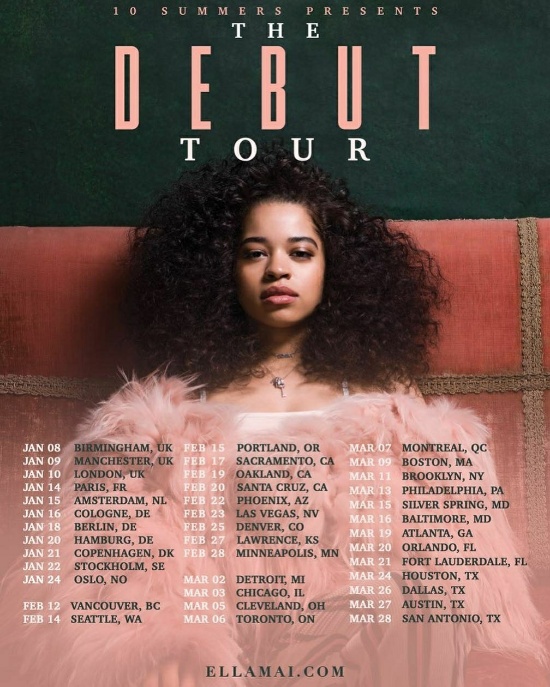 Ella Mai The Debut Tour dates:
Jan. 8 – Birmingham, UK – 02 Institute2
Jan. 9 – Manchester, UK – 02 Ritz
Jan. 10 – London, UK – 02 Shepherd's Bush
Jan. 14 – Paris, FR – YOYO
Jan. 15 – Amsterdam, NE – Melkweg Max
Jan. 16 – Cologne, DE – Carlswerk
Jan. 18 – Berlin, DE- Festsaal Kreuzberg
Jan. 20 – Hamburg, DE- Grosse Freiheit
Jan. 21 – Copenhagen, DK – Vega Main Hall
Jan. 22 – Stockholm, SE – Berns
Jan. 24 – Oslo, NO – Rockefeller Music Hall
- Advertisement -
Feb. 12 – Vancouver, BC – Commodore Ballroom
Feb. 14 – Seattle, Wash. – Showbox SoDo
Feb. 15 – Portland, Ore. – Crystal Ballroom
Feb. 17 – Sacramento, Calif. – Ace of Spades
Feb. 19 – Oakland, Calif. – Fox Theater
Feb. 20 – Santa Cruz, Calif. – The Catalyst
Feb. 22 – Phoenix, Ariz. – The Marquee
Feb. 23 – Las Vegas, Nev. – House of Blues
Feb. 25 – Denver, Colo. – Ogden Theatre
Feb. 27 – Lawrence, Kan. – The Granada
Feb. 28 – Minneapolis, Minn. – Varsity Theater
Mar. 2 – Detroit, Mich. – St. Andrew's Hall
Mar. 3 – Chicago, Ill. – Concord Music Hall
Mar. 5 – Cleveland, Ohio – House of Blues
Mar. 6 – Toronto, ON – The Danforth
Mar. 7 – Montreal, QC – Club Soda
Mar. 9 – Boston, Mass – Royale
Mar. 11 – Brooklyn, N.Y. – Brooklyn Steel
Mar. 13 – Philadelphia, Pa. – Theatre of Living Arts
Mar. 15 – Silver Spring, M.D. – The Fillmore Silver Spring
Mar. 16 – Baltimore, M.D. – Baltimore Sound Stage
Mar. 19 – Atlanta, Ga. – Tabernacle
Mar. 20 – Orlando, Fla. – The Plaza Live
Mar. 21 – Fort Lauderdale, Fla. – Revolution Live
Mar. 24 – Houston, Texas – House of Blues
Mar. 26 – Dallas, Texas – House of Blues
Mar. 27 – Austin, Texas – Emo's
Mar. 28 – San Antonio, Texas – The Aztec Theatre

- Advertisement -