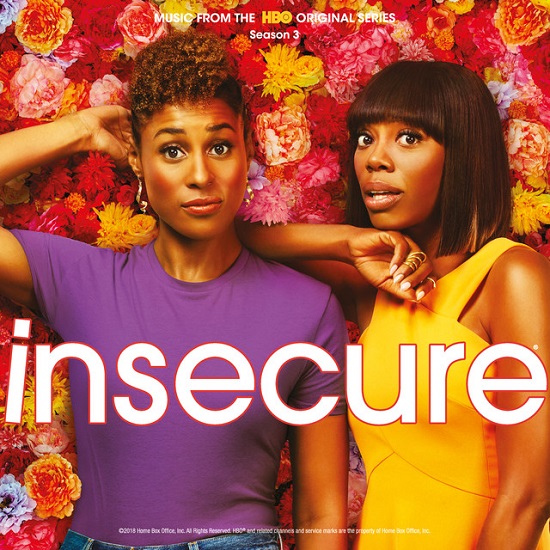 This season of Insecure has had its ups, downs and surprises. Though not as drama-filled as the previous two seasons, the character development (and eye candy) more than made up for and provided the laughs and gasps we needed. Another consistent and constant part of the show, as always, was this season's music. The songs included on this show ranged from artists both familiar and new and gave us something to nod our heads to as we laughed out loud. Now we finally have the songs from season three compiled in one place with the release of Insecure: Music From The HBO Original Series, Season 3.
There were a few usual suspects that made the cut this time around with original songs for the series — including a duet by Anna Wise and Xavier Omar,  Lion Babe with the inspirational tune "Just Me" and Leikeli47 with her cuts "Girl Blunt" and "Mulita." And as usual, the soundtrack also introduces us to new talent, including Bounce-Worthy trio  Radiant Children and their jam "Life's A B***h." But we also love the music choices that we already knew and loved, such as the inclusion of Miguel's "Banana Clip" and Peyton's "Sweet Honey," which not only add to the mood and feel of the show but also give the soundtrack a bit of its own character.
Quite honestly, the jams never stop on this edition of the soundtrack, whether its something expected (like Issa Rae-sampling closer "Hoe For It") or something that catches us completely off-guard (Victoria Monet's recreation/remix of Willie Hutch's "The Glow") there's something here for everyone to vibe to long after the season ends. Honestly, we can't wait to see how they top this one next season. Until then, we suggest you put this one on repeat.
Various Artists Insecure: Music From The HBO Original Series, Season 3 [Amazon][iTunes][Google Play]