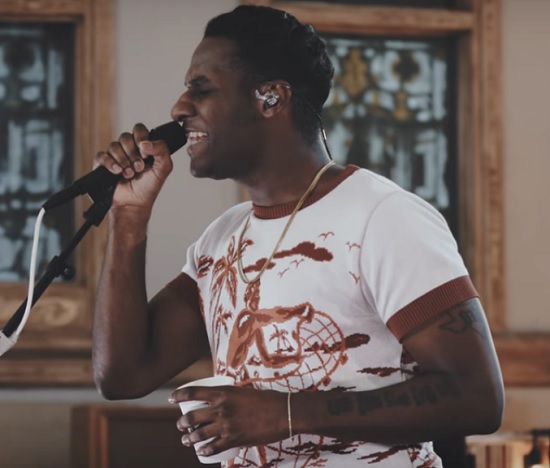 Leon Bridges' sophomore album Good Thing is perhaps one of the best albums to drop so far this year. Solid from to top to bottom, we're honestly surprised it isn't making more of a mark (though we have no doubt that those that are sleeping will eventually wake up). Leon is also preparing to embark on a long spate of tour dates in support of the album. In order to show folks what they're signing up for when they attend one of his shows, the crooner has released a live performance version of Good Thing standout "Shy."
Filmed at Nashville's Ocean Way Studios, the clip shows Leon and his band bringing the single-worthy jam to live in front of an audience. Hair freshly slicked back and cup in hand, he launches into the stripped-down version of the song with vigor. The guitarists and background singers are a bit subdued here, but Leon forgoes holding back, giving the audience full-force vocals and sliding in and out of soulful falsetto on the verse and bridge. And though he doesn't quite take things to church before the video ends, you get the sense that he has more than enough power stored up to do so if needed.
Though he has a few European festival dates lined up over the next month, his Good Thing Tour doesn't get into full swing in the States until this August, when he stops at Colorado's Red Rock Amphitheatre. Be sure to pick up your tickets for the tour by visiting his website — but first check out Leon Bridges doing his thing on this live rendition of "Shy" below.