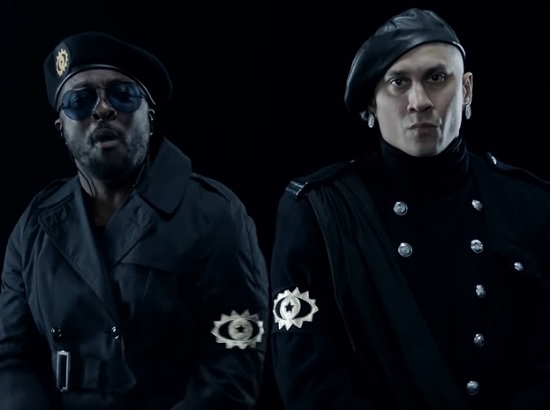 As we've mentioned before, the Black Eyed Peas are back and sounding like the group we fell in love with during their Behind The Front and Bridging The Gap days. The first blast from what we assume is a new album came earlier this year with "Street Livin'," a head nod-worthy joint that signaled a return to form. They follow that up with their latest single and video "Ring The Alarm pt. 1, pt. 2, pt. 3," a call to arms and wakeup call all rolled into one.
Co-produced by de facto group leader will.i.am and DJ Motiv8, "Ring The Alarm" is a revolutionary manifesto told in three parts. The first part is an incendiary jam in the style of late '80s/early '90s conscious rap, with will and Taboo spouting the ills and conspiracies plaguing the public and why we need to make moves to create a revolution. It's underscored by a mesmerizing synth loop over a boom-bap beat. Anchoring this is a chorus urging the listener to wake up because "revolution time has come." Soon, though, the beat flips to a more modern groove that almost has a military march feel to it. It serves as the backdrop for apl.de.ap to drop his verse as he points out that we all need to wake up and open up our minds. The beat flips once again near song's end, though this time it doesn't connect to the previous parts soundwise. Instead, a jazzy loop plays as will gets back on the mic to give us his "muthaf**kin' gospel."
The video for "Ring The Alarm" doubles down on the song's revolutionary motif. We see the Peas as the leaders of a modern-day revolution that includes faceless participants (including the singer of the chorus, who only shows her mouth and braids in the clip) who deliver their doctrine while draped in elaborate all-black, military-style clothing. Though they look imposing, their message of universal love, self-acceptance and self-determination isn't and it comes through pretty clearly, meaning the Black Eyed Peas are two for two so far this album cycle.
In addition to dropping "Ring The Alarm," the Black Eyed Peas have also partnered with Sweet to create a website which will allow fans to earn tokens, called Sugar, "for performing social actions and engaging in digital activities which in turn provide benefit to the artists and performers." The tokens can then be cashed in for exclusive experiences like meet and greets with the group, VIP Access and more. Those interested can head to the group's website to sign up for their very own Sweet wallet.
Get into the new sound and vision of BEP by checking out the clip for "Ring The Alarm pt. 1, pt. 2, pt. 3" below.
- Advertisement -