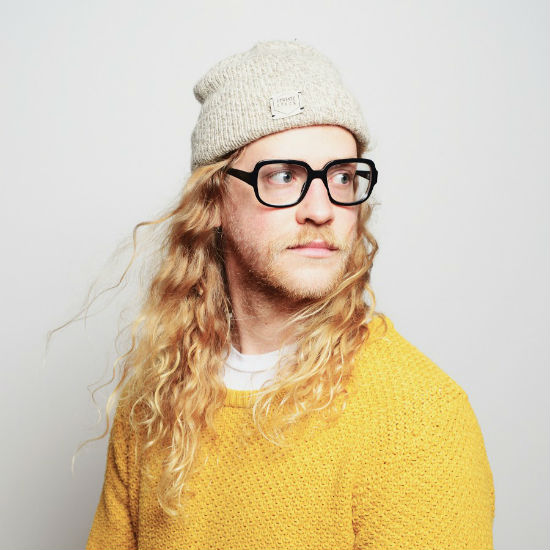 The life of a working musician often comes with many perks, as well as sacrifices. There seems to be a never-ending struggle between one's personal life and the demands of the road, often leaving one or the other to suffer. Singer/songwriter Allen Stone recognizes that living out your artistic dreams can take its toll on relationships, and he strives to strike a balance. On his latest single "Brown Eyed Lover" he sings the praises of his soon-to-be wife though he worries that his busy lifestyle may put a strain on the relationship.
Over a soulful groove, his tone is full of sincere emotion as he sings, "And all my friends adore her / She reminds me of my mother / She wonders how my day went / And don't care about my paychecks / Well, I don't wanna keep my baby waiting." Though he's obviously smitten, he still struggles with both logic and insecurity asking, "What if she finds a man who's got so much more time for her than me on his hands? / That don't make sense / Why would she wait so long just to run away?" The self-proclaimed "hippie with soul" has perfectly articulated the conflict felt by many artists, highlighting his knack for painting poignant and passionate pictures, lyrically and vocally.
According to Stone, "I am a slave to the road, constantly in a different city, always on the other side of town, never in the same bed for more than a night. It seemed as though I chose a lifestyle that wasn't lending itself to be shared with a partner. That was until I met my soon to be wife." His sweet and inspiring ode to his fiancé, also denotes the importance of finding a partner who shares your vision and whose love is pure. Both elements are golden, whether you come home every night at 6 p.m. on the dot or live life out of a suitcase. We're rooting for Allen and "Tazzy" and looking forward to more tunes inspired by their love.
Give Allen Stone's dedication to his "Brown Eyed Lover" a spin below, and make plans to catch him on road this summer through the fall. Though he has three shows in June and July in Chicago, Pasadena and Canada, he will kick off his Fall 2018 U.S. Tour in Portland, Oregon in October. With 23 shows, including stops in San Francisco, Nashville, Brooklyn, D.C. and Detroit, the love he sings about on his latest single hasn't slowed him down one bit. Tickets officially go on sale Friday, April 13th, but you can check out the tour dates below and use the presale code "STONED" to grab your tickets early on Wednesday, April 11th.
Allen Stone Fall 2018 U.S. Tour Dates:
Oct. 11 - Portland, OR - Wonder Ballroom
Oct. 12 - Napa, CA - JaM Cellars Ballroom
Oct. 13 - San Francisco, CA - The Regency Ballroom
Oct. 14 - Sacramento, CA - Ace of Spades
Oct. 20 - San Diego, CA - Humphreys Concerts by the Bay
Nov. 7 - Charleston, SC - Music Farm
Nov. 8 - Nashville, TN - Cannery Ballroom
Nov. 10 - Chattanooga, TN - Walker Theatre
Nov. 11 - Knoxville, TN - The Mill & Mine
Nov. 14 - Raleigh, NC - Lincoln Theatre
Nov. 15 - Norfolk, VA - The NorVa
Nov. 17 - Brooklyn, NY - Brooklyn Steel
Nov. 18 - Asbury Park, NJ - House of Independents
Nov. 21 - Washington D.C. - 9:30 Club
Nov. 23 - Boston, MA - Royale
Nov. 24 - Philadelphia, PA - Theatre of Living Arts
Nov. 25 - Munhall, PA - Carnegie of Homestead Music
Nov. 28 - Detroit, MI - Majestic Theatre
Dec. 2 - Minneapolis, MN - Varsity
Dec. 4 - St. Louis, MO - Delmar
Dec. 5 - Kansas City, MO - Knuckleheads
Dec. 7 - Englewood, CO - Gothic Theatre
Dec. 9 - Boise, ID - Egyptian Theatre

- Advertisement -