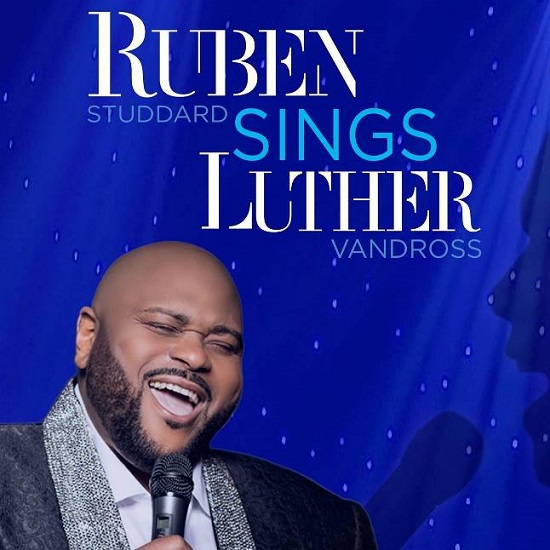 Fifteen years after being catapulted into the spotlight as winner of American Idol's second season, Ruben Studdard has finally released the album fans have been secretly hoping for. Ruben Sings Luther – a tribute to the late Luther Vandross – is a collection of 10 songs that remind us of just how much we miss the inimitable crooner. Big Rube, the GRAMMY-nominated Velvet Teddy Bear, has been compared to The Velvet Voice throughout his career. And though he didn't shy away from it – covering "Superstar" and "If Only For One Night" on separate projects and incorporating various songs from Mr. Vandross' catalog into his concert sets – he's never done anything quite like this.
"My goal was to not only to pay tribute to Luther but to add my own passion on top of Luther's brilliant songs," Ruben explains. "It all started with my mom who has always loved Luther and played his music in our home continuously – especially during Christmas. You can say I grew up with the world's biggest Luther fan. In my young teens, I would perform a Luther song or two at weddings and people would keep requesting more of his hits. I recorded 'Superstar' awhile back which was GRAMMY nominated and sang different Luther songs during my live shows. But people always asked when I was going to do an album of Luther's songs. Happily the day has arrived. It was a thrilling experience selecting the songs from his different albums and putting my own interpretation on them. I am so proud of this record," he concludes.
On top of paying homage to the iconic artist on wax, Studdard will embark on a 22-city Always And Forever Tour starting April 8th. With plans to recreate some of the production elements that were present when Luther performed in concert, the singer promises "my heart and soul will be in every note I sing as I honor one of the greatest vocalists we've ever had." Stream Ruben Sings Luther below then head to your favorite digital retailer to download the album. Afterwards, scroll down to peep the dates for the Always and Forever Tour and visit the official website for ticket info.
Ruben Studdard, Always And Forever Tour dates:
APRIL 8 - CREST THEATRE, SACRAMENTO, CA
APRIL 11 – THE ROSE, PASADENA, CA
APRIL 12 - FOX PERFORMING ARTS CENTER, RIVERSIDE, CA
APRIL 13 - TEXAS STATION CASINO, LAS VEGAS, NV
APRIL 14 - CHANDLER CENTER FOR THE ARTS, CHANDLER, AZ
APRIL 15 - SYCUAN CASINO, EL CAJON, CA
APRIL 17 - SOILED DOVE UNDERGROUND, DENVER, CO
APRIL 19 - THE KENT STAGE, KENT, OH
APRIL 20 - ARCADA THEATRE, ST. CHARLES, IL
APRIL 21 - POTTER CENTER / COMMUNITY COLLEGE, JACKSON, MI
APRIL 22 - SCHROTT CENTER FOR THE ARTS, INDIANAPOLIS, IN
APRIL 24 - BERGEN PERFORMING ARTS CENTER, ENGLEWOOD, NJ
APRIL 26 - STATE THEATRE, NEW BRUNSWICK, NJ
APRIL 27 - THE ZEITERION PERFORMING ARTS CENTRE, BOSTON, MA
APRIL 28 - KESWICK THEATRE, GLENSIDE, PA
APRIL 29 - THE CABOT THEATER, BEVERLY, MA
MAY 2 - NYCB THEATRE, WESTBURY, NY
MAY 4 - MOHEGAN SUN HOTEL & CASINO, UNCASVILLE, CT
MAY 5 - ROBERT PARILLA PAC AT MONTGOMERY COLLEGE, ROCKVILLE, MD
MAY 9 - FLORIDA THEATRE, JACKSONVILLE, FL
MAY 10 - HARD ROCK HOTEL, ORLANDO, FL
MAY 12 - STRAZ CENTER FOR THE ARTS / FERGUSON HALL, TAMPA, FL
MAY 13 - KRAVIS CENTER / DREYFOOS HALL, WEST PALM BEACH, FL

- Advertisement -