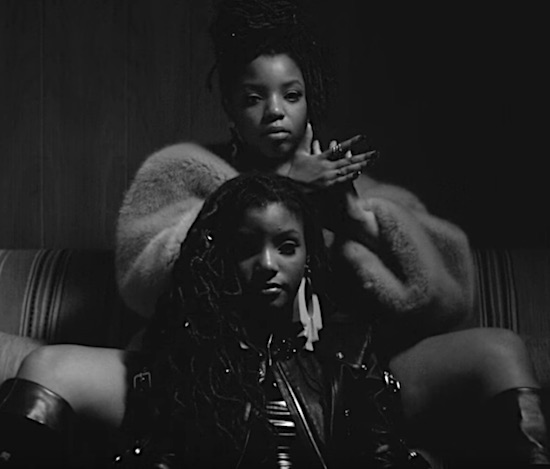 Since 2011, sisters Chloe x Halle have been on a journey towards fame and stardom. From becoming YouTube sensations to being discovered, signed and nurtured by the one and only Beyoncé to giving us weekly antics as stars of the series grown-ish, these sisters have been on the ride of their lives. Now, to accompany the release of their debut album, they're taking us a visual journey through the project with The Kids Are Alright short film. While there are clear parallels between Bey's Lemonade and The Kids Are Alright (and, yes, there are a few), Chloe x Halle aren't just giving us some watered down punch. Instead, it's a look at the wonderfully bewildering experience of being a young adult.
Directed by Cara Stricker, the film starts with a clearly distressed Ashton Sanders (Chiron in Moonlight) as a voice on the radio preaches, "As you evolve into an adult, it's okay to be confused about our place in life." Unfortunately (or fortunately) for Sanders, he is washed up on a beach wearing angel wings. We get a brief interlude where the sisters share some wisdom before things switch to a visual of them wearing complimentary outfits singing "Hi Lo." In the next scene, our girls make their way to a psychedelics house party as "Everywhere" plays. Once the party is over, we see them in a black-and-white interlude, with Chloe Bailey retwisting younger sister Halle Bailey's locs. Like a pair of young Maya Angelou's they take turns spitting the biting lyrics to "Fake" such as, " That fake love they braggin' / That fake woke hashtaggin' / Flexin' like they have it," like spoken word. After getting some things off their chests, the sisters sing "Galaxy" on a set that seems inspired by old '70s home videos. After another interlude, the sisters join Ashton on the beach looking like a pair of heavenly seashells singing "Happy Without Me."
If the shortened version of "Happy Without Me" from the film wasn't enough for you, the ladies were gracious enough to perform the song in its entirety on Jimmy Kimmel Live! last night. On stage the ladies shimmied and sashayed in sparkly outfits surrounded by the studio audience. While the stage didn't feature a lot of extras besides a disco ball hanging above them and some fluorescent lighting, the ladies gave us enough drama with their passionate performance of the song about that heartbreaking moment when you realize that an ex has moved on and is happy with someone else.
The Kids Are Alright – both the album and the short film – provides a glimpse into the magic and wonder that is Chloe x Halle. Full of uplifting music and inspiring messages for the young and young at heart, we can't deny our love for the awesome twosome and their latest project. And judging from their performance on Kimmel, neither can the youth they represent. Press play to watch Chloe x Halle's cinematic theatrics in The Kids Are Alright and fall more in love with them after you watch their Jimmy Kimmel Live! performance.
The Kids Are Alright is available for purchase from all major retailers, including Amazon, iTunes or Google Play.
- Advertisement -