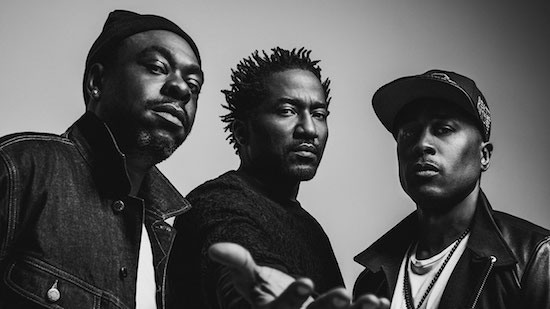 When A Tribe Called Quest dropped their stellar album, We got it from Here...Thank You 4 Your service in 2016, it was a bittersweet moment on several fronts. Though happy that members Q-Tip, Phife Dawg, Ali Shaheed Muhammad and Jarobi White had reconciled their differences enough to record together again, the album was released after Phife's untimely death earlier that year. Compounded by the fact that the album would be ATCQ's final studio album, and fans had a lot to both celebrate and mourn. After dropping off videos for "We The People" and "Dis Generation," coupled with their GRAMMY snub, it seemed that fans had gotten all that we were going to get from the album by way of formal releases from the project. Well, it seems that ATCQ has one more visual in store for fans before bidding adieu for good. Earlier this week, the group dropped a trailer for what is being billed as the official final video from the Queens-bred icons, "The Space Program."
The teaser clip features the remaining members in various stages of space travel, while Phife seems to be represented by a green light. The short clip doesn't offer much more of a look at what else can be expected, but it is evident that ATCQ are sticking close to the theme of the album's opening track. Though there is no word on when the full visuals will be released, the Warren Fu-directed video will be available exclusively on Apple Music whenever it does drop.
The snippet wasn't the only thing coming from the ATCQ camp this week. On March 13th, the group also dropped their capsule collection of clothing, which features hoodies, t-shirts and several other branded items. Designed in collaboration with Pharrell Williams' Billionaire Boys Club brand, the BONITA collection borrows its name from the group's classic single, "Bonita Applebum." All items are currently available at BBC's flagship store and online via ATCQ's website.
Take a look at this final video offering from this legendary band and be sure to cop your BONITA items before they're gone.
- Advertisement -