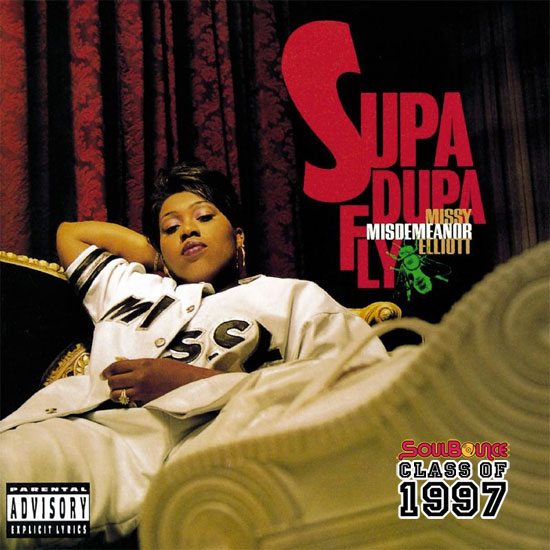 Missy "Misdemeanor" Elliott made her grand debut to the world of music shouting "He-he-he-he-how-he-he-he-he-how!" in Gina Thompson's video for the Bad Boy remix of "The Things You Do." She wasn't your typical chick being pushed by the music industry. She wasn't petite, demure or trying to be a female version of a grimy rapper. Delivering more personality than what could be stuffed into the average hot 16, she was unapologetically and undeniably just Missy. We wondered who she was, where she came from and how we would learn more about this dynamic scene-stealer. Of course, Missy had been writing songs and performing for years as part of short-lived girl group Sista, part of DeVante Swing's Swing Mob clique. She and partner Timbaland soon became fixtures of the Black music scene, writing hits for Jodeci, Aaliyah, 702, SWV and more. For a second there, we didn't know if Missy would even release an album. However, the promise of this emerging star was fully realized in the summer of 1997 with the release of her highly-anticipated debut album, Supa Dupa Fly.
Missy was determined to push the envelope with Supa Dupa Fly with a sound that was ahead of its time. The album stood out for going against the grain of the hip-hop soul sound outta New York City that defined Black music at the time. It had hard-hitting beats and made use of old-school samples in a unique way. However, it was more melodic and experimental than anything else at the time. Of course, Missy was more than just a rapper riding a beat courtesy of Timbaland. Her personality and writing sold the production. Missy showcased her versatility as both a rapper and singer, but her ability to craft a diverse selection of songs, each with their own vibe and feel, from the sparse boom bap braggadocio of "Pass Da Blunt," to the bedroom ready "Friendly Skies" featuring Ginuwine. And we'd be remiss if we didn't talk about her next level videos. Take the video for first single "I Can't Stand The Rain" for example. Missy reintroduced herself by dressing in an oversized garbage and looking back at the audience through a peephole fish-eyed lens in the now-iconic clip, her first of many to follow.
Supa Dupa Fly debuted at No. 3 on the Billboard 200 chart with more than 129,000 copies sold, the highest debut for a woman rapper at the time. The project received critical acclaim upon its release, cited for its avant-garde production and Elliott's larger than life personality. While the album only went platinum during its time, the impact of the project could be felt across the music industry. It redefined both hip-hop and R&B. Of course, trying to encapsulate the impact and innovation of Supa Dupa Fly is almost beyond description. The album was representative of a moment in time in music that became a movement that still influences the industry to this day. While people tried to bite their style, Elliott and Timbo would keep their competition on their toes, changing their sound up with each release, coming with that new-new each and every time. No longer that girl singing, "He-he-he-he-how," Missy wasn't just a household name, but our homegirl who made it big. Real big. Bigger than life.
Missy Elliott Supa Dupa Fly [Amazon][iTunes][Google Play]