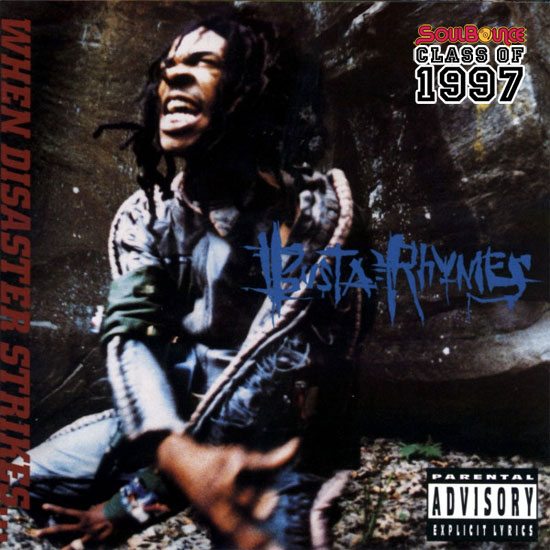 When Trevor George Smith Jr. aka Busta Rhymes stepped on the scene, there was nothing quiet about it. The eccentric and gritty rapper used his energetic personality to win over hip-hop fans when he made his debut in 1989 with the Leaders of the New School. By the time they broke up 1992, it was clear Busta was stealing the spotlight and rightfully so. He was a character. His lyrical prowess, energy and unique delivery were unmatched. He released his solo album The Coming in 1996, which had us all screaming "Woo Hah!! Got You All in Check" at the top of our lungs. At a time when gangsta rap reigned supreme, Busta Rhymes had more to talk about than just guns and rivalries, and he did so all over funky beats. By the time he released his second solo album, When Disaster Strikes... the following year, hip-hop lovers were ready to see if he could deliver another hot solo album.
Channeling an apocalyptic theme, Busta Rhymes used the 18-track album to prove he was here to stay. The first half of the album paints a beautiful picture of Busta's raw talent. In "The Whole World Looking At Me," Busta takes just a few breaths as he drops bar after bar to kick off the album. On the title track, Busta uses his creative vocal chops and gruff delivery to keep your attention as he foresees the impending disaster. "So Hardcore" shows us another side of Busta's delivery, using his non-stop rhymes to prove he can go toe-to-toe with any emcee. The second half of the album slows down the momentum, with invited guests, collaborations and nods to Flipmode Squad. We still only focus on Busta, however, as his manic energy is one that can't be ignored. Busta's appreciation for soul music also shined through, using a righteous Al Green sample on "Turn It Up" and enlisting the help of then-newcomer Erykah Badu on "One." What made When Disaster Strikes... a commercial success were two standout tracks, "Put Your Hands Where My Eyes Could See" and "Dangerous." Both singles came equipped with dynamic videos, featuring Busta running from elephants, channeling the movie Coming To America or dancing erratically in glow-in-the-dark body paint in a jungle. Both were radio-ready dance tracks played in clubs and parties all over the world then and now.
Busta always gave us eclectic beats and unpredictable rhymes that left an impression on anyone who chose to listen. When Disaster Strikes... opened at number three on the official U.S. Billboard 200 album chart and claimed the top spot on the Top R&B Albums chart. "Put Your Hands Where My Eyes Could See," "Dangerous" and "Turn It Up" all found homes on the Billboard Hot 100, while "Put Your Hands Where My Eyes Can See" earned a GRAMMY nom for Best Rap Solo Performance at the 40th Grammy Awards in 1998. With a career spanning well over two decades, Busta Rhymes has built a solid body of work, generating more albums, platinum hits and award nominations that he so rightfully deserves. Most recently, Busta joined A Tribe Called Quest's tribute to Phife Dawg on their recent album, We got it from Here...Thank You 4 Your service. He's also appeared on Swizz Beatz energy-filled "AAAHHH!!!," got a spot on The Hamilton Mixtape with The Roots and continues to perform in front of crowds who can't get enough of his hip-hop hits. Still bringing the noise every opportunity he can get, we will always love Busta and his rhymes.
Busta Rhymes When Disaster Strikes... [Amazon][iTunes][Google Play]