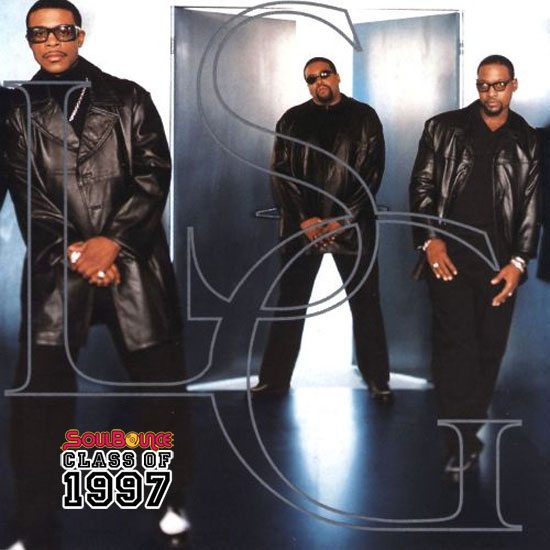 Supergroups aren't all that uncommon in the music world. Hell, it seems like there's been a new one formed every year since at least 1965, if not earlier. However, an R&B supergroup is exceedingly rare, which is why three top-tier talents like Gerald Levert, Keith Sweat and Johnny Gill coming together to form their supergroup LSG caught so much attention. The unprecedented event spawned their 1997 album Levert.Sweat.Gill, which was pretty much guaranteed to be a hit given the project's star power.
Any talk of Levert.Sweat.Gill must begin with the album's lead single, "My Body." The steamy, sultry track was the perfect intro to exactly what the group was about on the set — mainly getting the ladies hot and bothered with their combined vocal prowess. Produced by Darrell "Delite" Allamby, the song oozed sex appeal, with the fellas harmonizing and taking turns on their respective verses as they let the ladies know exactly how they wanted to sex them up over slinky synths and strings. The song was an instant hit, rising to No. 1 spot on the R&B Singles chart and peaking at No. 4 on Billboard's Hot 100. However, "My Body" wasn't all Levert.Sweat.Gill had to offer.
The album showed a love of collaboration, with most of the album's featured guests hailing from the hip-hop community. The Lox showed up on the Puffy-produced "You Got Me" while LL Cool J, Busta Rhymes and MC Lyte feature heavily on the Tumblin' Dice-produced second single, an update of Midnight Star's "Curious" (which, honestly, is more of a showcase for the rappers featured than LSG). Even a young Jazze Pha gets some shine on the unfortunately titled "Let A Playa Get His Freak On." These collaborations and the way they affected the album's sound hinted at the direction that R&B would soon be going in the not-so-distant future. That being said, the best collaborative effort was a straight up R&B affair, with LSG going toe-to-toe with the equally impressive vocal talents of Faith Evans, Cheryl "Coko" Gamble and Missy Elliott on "All The Times," which found the sextet harmonizing about the strength of their loving bond.
For all its progressiveness, though, it still had its fair share of middling (and at times downright corny) moments that haven't aged well. You need look no further than album opener "Door #1," which found each fella clumsily cobbling together the names of their hit songs in an attempt to seduce. Still, despite itself, the set managed to shine. The album itself peaked at No. 4 on the Billboard 200 and landed at No. 2 on the Top R&B Albums chart, eventually going two-times platinum.
The success of LSG became the blueprint for the R&B supergroups that came after, like TGT  and Lucy Pearl (interestingly enough, they all tend to be trios), though they still remain pretty rare even 20 years after the fact. As for LSG, they released a far less successful follow-up, LSG2, in 2003. Three years later, they suffered a heavy blow with the death of Gerald Levert. Though there was talk of Eddie Levert taking up his son's mantle in the group, the group effectively disbanded after Gerald's passing. Keith Sweat continues to perform and has even delved into the world of radio with his show The Sweat Hotel. Johnny Gill is also still performing and recording, with him dropping his most recent album, Game Changer, in 2014. In addition to that, the resurgence of his group New Edition after this year's successful BET biopic is also keeping him in high demand. Though LSG may be no more, we'll always have the smooth grooves of Levert.Sweat.Gill to remember them and this unique and special moment in time.
LSG Levert.Sweat.Gill [Amazon][iTunes][Google Play]
- Advertisement -