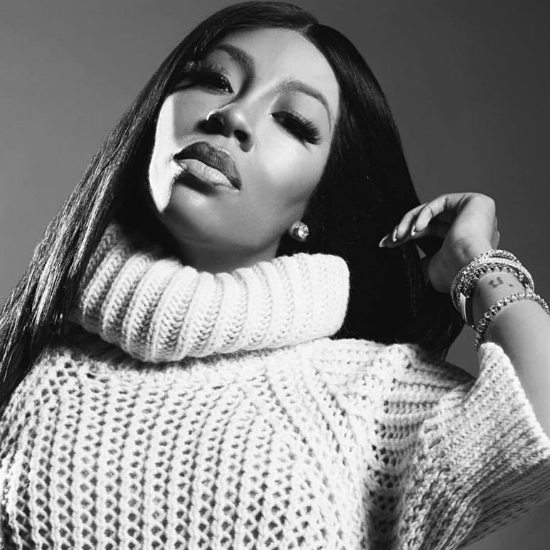 Songstress K. Michelle is ready to take her show on the road. After releasing her fourth studio album Kimberly: The People I Used To Know, she'll be hopping on a tour bus for a 21-city concert tour beginning February. Needless to say the Love & Hip-Hop star is booked and busy in 2018 and has no plans of slowing down once her The People I Used To Know Tour gets started. She announced the news to fans on her Instagram after dropping a hint that she would be releasing a new single in January.
The new tour starts in Providence, Rhode Island, makes its way to Connecticut, Ohio, Virginia and more U.S. cities and later ends in early March in Los Angeles. K. Michelle has so far released several tracks from the new album, including dynamic visuals featuring a more modest style. She gave us the trap-influenced "Birthday," a little pop action in "Giving Up On Love" and later delivered the deliciously shady "F*** Your Man."
If you're a K. Michelle fan and want to see her new tracks live, pre-sale tickets go live in select cities tomorrow and all tickets can be purchased this Friday. Scroll down to find out when Kimberly will be in a city near you, and be sure to cop Kimberly: The People I Used To Know to prep for the show.
K. Michelle The People I Used to Know Tour dates:
2/9/18 - Providence, RI - The Strand
2/10/18 - Wallingford, CT - The Dome at Oakdale Theatre
2/11/18 - Baltimore, MD - Rams Head Live!
2/14/17 - Cleveland, OH - House of Blues
2/15/18 - Richmond, VA - The National
2/16/18 - Norfolk, VA - The Norva
2/17/18 - Rochester, NY - Auditorium Theatre
2/18/18 - Detroit, MI - Sound Board at Motor City Casino Hotel
2/20/18 - Philadelphia, PA - The Fillmore Philadelphia
2/21/18 - Washington, DC - The Fillmore Silver Spring
2/23/18 - Raleigh, NC - The Ritz
2/24/18 - Myrtle Beach, SC - House of Blues
2/25/18 - Atlanta, GA - Tabernacle
2/27/18 - New Orleans, LA - House of Blues
2/28/18 - Houston, TX - House of Blues
3/1/18 - Dallas, TX - House of Blues
3/2/18 - San Antonio, TX - The Aztec Theatre
3/4/18 - Phoenix, AZ - The Van Buren
3/6/18 - Las Vegas, NV - House of Blues
3/7/18 - San Diego, CA - The Music Box
3/8/18 - Oakland, CA - The Historic Bal Theatre
3/9/18 - Los Angeles, CA - The Novo
- Advertisement -