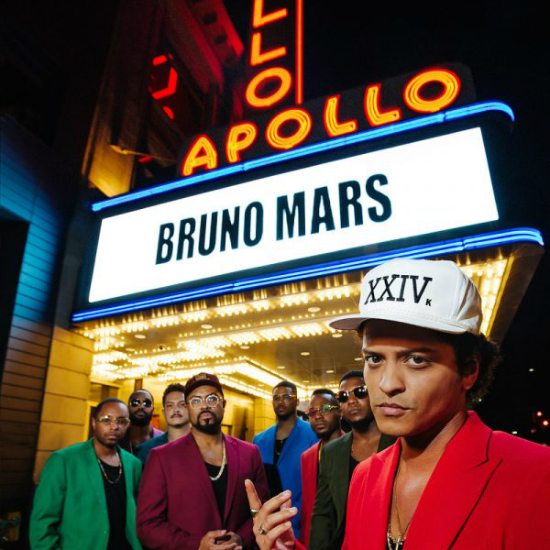 If you're like me, then you have been lamenting the fact that you missed out on Bruno Mars' 24K Magic World Tour when it landed in your town. You probably also spent that evening being green with envy as you looked through your friends' social media posts about how awesome the show was. Which then means that, again, if you're anything like me, you jumped for joy when you learned that CBS would be airing its concert special, Bruno Mars: 24K Magic Live at the Apollo on November 29th. As it turns out, the broadcast turned out to be more than just a chance to catch a glimpse of his electrifying stage act; it also provided the opportunity to see the charismatic crooner work his magic on the residents of Harlem.
Things kicked off with Mars and his band taking to the streets to spread the word and invite folks down to the legendary Apollo Theater to check out the surprise show. Like a politician running for office, he flashed his pearly whites as he knocked on doors, shook hands, visited beauty salons and stopped for some stoop talk while promoting the show. He then took to the top of the Apollo's famed marquee, literally stopping traffic on 125th Street as he opened the show with his hit single "24K Magic" before taking the remainder of the show inside.
From there, he ran through several hits like "That's What I Like," "Finesse," "Calling All My Lovelies," "Chunky" and "Perm." As always, his band The Hooligans matched his pace as their sharp, choreographed moves kept the audience on its feet from start to finish. Sandwiched between outfit changes and his top-notch vocals, he managed to inject the show with humor from time to time, at one point serenading Mary, one of the older ladies he chatted with on her brownstone steps.
While the hour-long special surely couldn't cover everything from the actual concert setlist, he at least gave fans who may have missed the actual tour a sample of what he had to offer. It also gave the performer a chance to check television producer off his to-do list, earning him over 5 million viewers in the process. The successful broadcast is just the latest thing for Mars to smile about these days. Just a day prior to the show airing, he received six nominations for the 60th annual GRAMMY Awards.
If you happened to miss Bruno Mars' special, you can check it out in full right here.
- Advertisement -