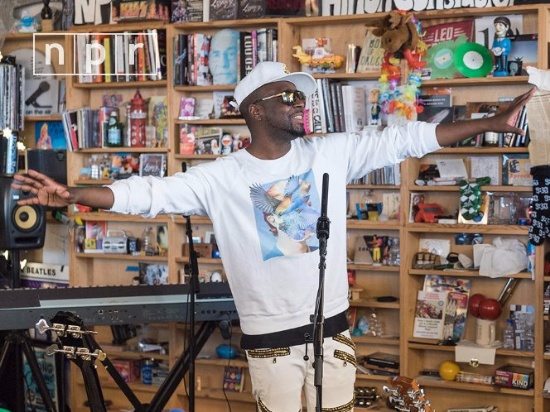 It's a typical day at NPR's Washington, D.C. headquarters to walk away from your desk and right into a full-on musical performance. Recently NPR employees and guests got an eclectic show from none other than Wyclef Jean. The Haitian artist dropped in on NPR Music's Tiny Desk Concert to perform tracks from his 10th solo album, The Carnival III: The Fall and Rise of a Refugee. Released this summer, Wyclef is slowly but surely making his comeback, spreading his gospel one performance at a time.
Wyclef decided to warm up the NPR office by starting with "Borrowed Time," which included a freestyle about Tiny Desk to keep the audience on their toes. Along with Patrick Andriantsialonina on bass and Manny Laine on drums, Wyclef showcased his musical prowess and also used his Tiny Desk opportunity to display his storytelling skills. Wyclef shared intimate stories about the late Whitney Houston and Destiny's Child, while he put his guitar down and hopped on the keyboard. He then introduced vocalist Jazzy Amra, who used her sweet voice to add layers of R&B to his track "Turn Me Good." To end his performance, Wyclef decided to get back on the guitar and give the audience a new rendition of his 1997 hit "Gone Till November." The artist shared a  funny Bob Dylan story and proceeded to rip the guitar in true rocker style, even playing it with his teeth while channeling his inner Jimi Hendrix.
With a dynamic Tiny Desk performance, produced by NPR's Bobby Carter and Morgan Noelle Smith, under his belt, we can only imagine what Mr. Jean has in store for us next. Watch Wyclef's Tiny Desk Concert until the end to see just how talented he is and how he turned NPR's main office into his own musical carnival.