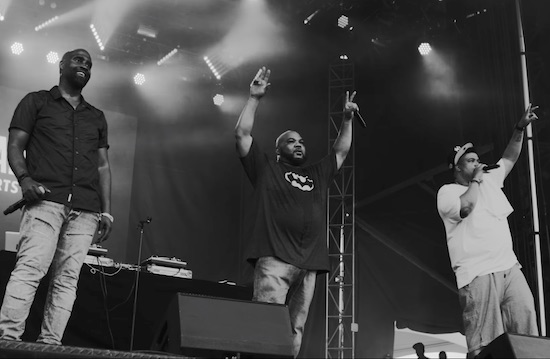 De La Soul has had quite a year. After releasing And the Anonymous Nobody…, their first album in over 11 years in 2016, they went on to earn critical acclaim and the trio's first GRAMMY nod since 2006. Members Posdnuos, Dave and Maseo also hit the road, touring extensively overseas and here in the U.S. However, all the highs have been overshadowed since Dave was diagnosed with congestive heart failure, forcing De La to put their robust touring schedule on hold. His health ordeal is detailed in the group's newest music video for "Royalty Capes." 
The clip details the new reality of the legendary rapper as he describes the fateful day that brought the group's tour plans to a screeching halt. After falling asleep and waking up in the hospital following heart failure, Dave is now forced to wear a portable defibrillator vest to shock his heart should it ever stop beating again. The daunting diagnosis is seen as a temporary setback as he tells the camera, "I'm ready just to get back to the stage. I miss that. I love traveling. I love being around my guys. I want that back."
From there, the J Anders Urmacher-directed video then showcases footage from De La's recent travels to locations such as France, Rotterdam, Toronto, London, Los Angeles and their New York City hometown. Shots of the group en route to performances, rocking the stage for packed crowds and interacting with adoring fans provides a behind-the-scenes look at a day in the life of one of hip-hop's most groundbreaking trios. Their fellow Native Tongue fam A Tribe Called Quest's Q-Tip and Jarobi White also make appearances in the video.
The "Royalty Capes" visual is a fitting tribute to Dave's current health ordeal considering that he handled the song's production and it was among the first songs recorded for Anonymous Nobody. He recently got his wish to get back on the road as De La recently performed in Milan and Geneva and have upcoming dates in Boulogne-Billancourt and Chicago. "Royalty Capes" is the latest video to come from the crew behind "Drawn," "Pain" and "Memory Of...(US)."  Check out the clip below to get an in-depth look at De La Soul's life on the road.