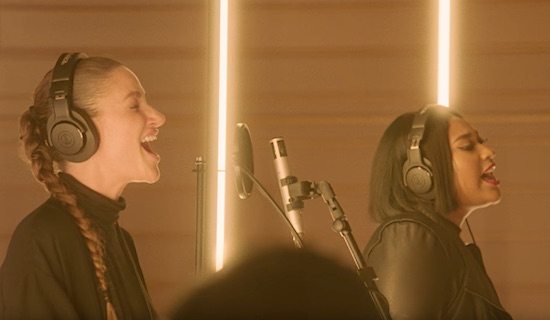 It's not often that lightning strikes the same spot twice, but damn if NIIA and Jazmine Sullivan didn't just make it happen once again. The first time the two teamed up was for the alternate take on NIIA's jam "Sideline," a brooding ballad about being the other woman lifted from her debut album I. Their makeshift duet elevated the song from a sidechick lament to a vocal battle for a philandering man's heart and brought joy to the ears of music lovers everywhere. That undeniable vocal chemistry couldn't just be left alone, so NIIA and Jazmine have teamed up once again, giving us a live take on "Sideline" that accomplishes the impossible task of blowing their first rendition out of the water.
Filmed and recorded with a live orchestra, the live rendition of the track captures the emotion of the song near perfectly, with each lady starting softly and then building in intensity as the song progresses. NIIA begins the song with an almost cool, nonchalant quality as she introduces the you, me and she situation. Jazmine follows suit, at first laying things out pretty bare. But if you know Jazzy, then you know that doesn't last long at all. Her husky delivery soon takes flight and soars, with the budding diva taking control fo the song. But don't fret for NIIA, who holds her own on the subsequent chorus, nearly matching Jazmine note for note. In fact, their voices seem to love each other, playing off of each other's tone and delivery so perfectly that we dare you not to get caught up in their rapture. And lest we forget, we have to give a hand to the orchestra, who keep up quite nicely with the ladies as they provide the dramatic backdrop necessary to sell the song's story.
After hearing this live take, NIIA just landed on our must-see-live list. Luckily for us, she has two upcoming shows this fall at LA's The Morrocan Lounge on November 28th and NYC's The Slipper Room on December 1st. But if you can't happen to make those sets, don't worry. NIIA recently released her Live From KCRW EP, which features live takes on tracks from her debut. Before you make a decision about which live offering best suits you, check out NIIA and Jazmine doing the damn thing with "Sideline" below.