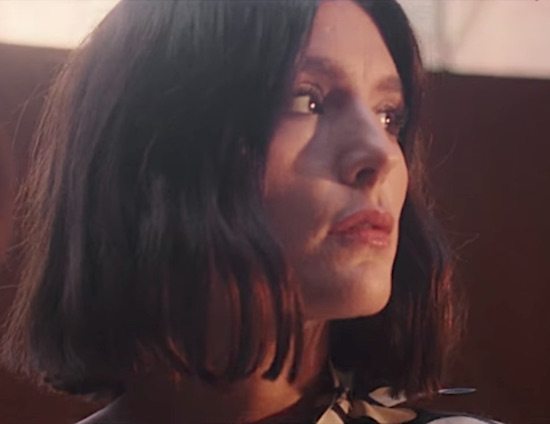 We know you're anxious to get your hands on Jessie Ware's latest album, Glasshouse, and we can't say we blame you — especially since its release is just around the corner. However, you're going to have to wait a couple more days to get your hands on the project. Luckily for you, though, Jessie is a caring entertainer and has provided you with two ways to occupy your time while you wait for her third album's arrival: a video for the set's third single "Alone" and brand new song "Sam."
Just like her previous videos for "Midnight" and "Selfish Love," "Alone" is a stylish affair. Unlike the aforementioned videos, though, Jessie isn't telling a continued narrative in this one. Instead, the camera on focuses on Jessie and only Jessie. She's seen in the clip rocking various styles (including a fabulous black-and-white polka dot number that is simply stunning) as she walks through an empty, architecturally pleasing house as she sings the track's vulnerable lyrics. While the concept of the video is nothing to write home about, she still manages to make things quite captivating.
Equally interesting is her latest single "Sam." Co-written by "Shape Of You" singer Ed Sheeran, "Sam" is Jessie's tribute to her loving husband Sam Burrows. Mostly backed by acoustic guitar (though muted trumpet makes its way into the mix), the song finds Jessie reflecting on her family life with her husband and son. On the song, which she recorded while eight months pregnant, she delivers nostalgic verses about childhood and memories of her mother. However, it's the chorus that resonates most, with Jessie singing, "And I hope I'm as brave as my mother / Wondering what kind of mother will I be / I hope she knows that I found a man far from my father / Sam, my baby, and me." It's a touching sentiment, one that grows even more touching thanks to the deft contributions of featured musicians Nico Segal, Francis Starlite (of Francis & The Lights) and Pino Palladino.
Looks like Jessie Ware's going to take us on quite the emotional journey when Glasshouse arrives this Friday (October 20th). Peep the video for "Alone" below and then stick around to hear the beauty of "Sam."