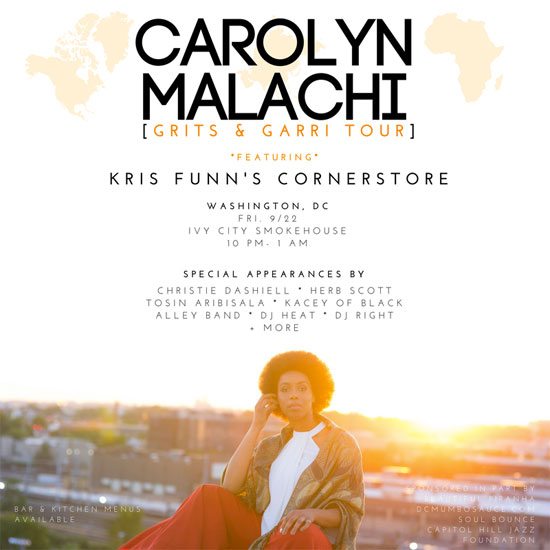 Carolyn Malachi is proving to be a woman for all seasons. After delighting us this past spring with her song "Summer Cool," which has naturally been in heavy rotation all summer long, she's starting fall with something big. The first day of autumn (Friday, September 22nd) will find Malachi celebrating the launch of her Grits & Garri podcast and kicking off her Grits & Garri Tour at Ivy City Smokehouse in Washington, D.C.
The Grits & Garri podcast is Carolyn Malachi's passion project with a purpose. Taking its name from a food that is an African-American staple and a dish common in West and Central Africa, Grits & Garri's mission is to bridge the gap between artists of the African diaspora. According to Carolyn, "the purpose of this podcast is to examine how fresh work produced by artists within the African diaspora challenges traditional modalities of 'black' expression, channels intercultural curiosity and functions as a tool for mutual understanding." That sounds quite ambitious, but she is laser-focused on the podcast's overall goal of "advancing all people to greater acceptance and appreciation of each other," and that's something that we can definitely get down with.
To accompany the Grits & Garri podcast, Carolyn Malachi will also embark on the Grits & Garri Tour that begins in Washington, D.C. at the launch party tomorrow night. Carolyn will be joined by a few of her artist friends for this festive occasion. On the bill with her are Kris Funn's Cornerstore, Christie Dashiell, Herb Scott, Tosin Aribisala, Kacey of Black Alley Band, DJ Heat, DJ Right and more, so attendees should prepare for some surprises.
SoulBounce will be in attendance at this can't-miss event, and we're inviting all DMV Bouncers to join us. Make plans to attend Carolyn Malachi's Grits & Garri soiree on Friday night at Ivy City Smokehouse located at 1356 Okie Street, NE in D.C. General admission and VIP level tickets are on sale now. Doors open at 10 p.m. and showtime is at 11 p.m. Come through for some good times and hot live music.