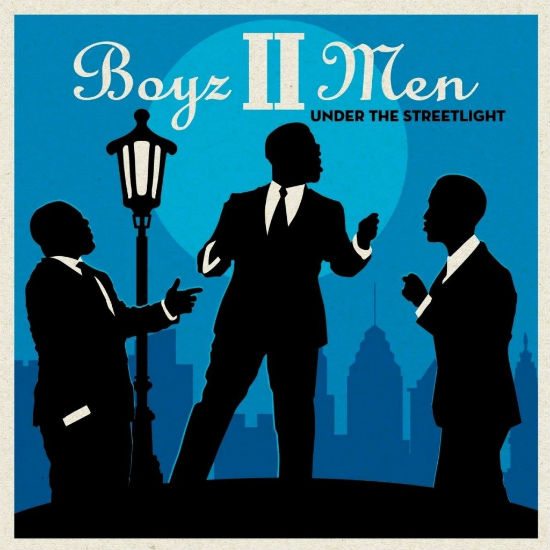 Veteran R&B group Boyz II Men is celebrating their more than 25 years in the music business by blessing their loyal fans with a new album. The project, entitled Under the Streetlight, is said to be a tribute to the harmony-driven classics that inspired the group's beginnings. The 10-track LP will feature renditions of timeless songs personally selected by the trio, enhanced with their own signature flavor. Singer/songwriter Brian McKnight makes a guest appearance on covers of Sam Cooke's "I'll Come Running Back To You," Little Anthony's "Tears On My Pillow" and Etta James' "A Sunday Kind Of Love." Singer/actress Amber Riley also lends her voice to the project on "Anyone Who Knows What Love Is," previously recorded by "Soul Queen of New Orleans" Irma Thomas, and the incomparable Take 6 join the trio in putting their spin on The Heartbeats classic "A Thousand Miles Away."
"Growing up and experiencing doo-wop music definitely influenced Boyz II Men's sound," says Nathan Morris. "Under the Streetlight has been a passion project that we've wanted to create for a while to bring us back to our roots and make the music that inspired us when we first started the group." The new album will also feature Motownphilly-style remakes of classics such as the Frankie Lymon and the Teenagers' hit "Why Do Fools Fall in Love" and The Flamingos' "I Only Have Eyes for You," as well as an original song entitled "Ladies Man."
It sounds like three of our favorites from Philly are gearing up to take us back to a time when real singers needed little more than their own natural vocal instruments to touch hearts, and we could certainly use a lot of that. Under the Streetlight is set to be released on October 20th, and is available for pre-order now. Check out the tracklist below, and be sure to catch them live during their ongoing residency at the Mirage in Las Vegas.
Boyz II Men Under The Streetlight tracklist:
1. Why Do Fools Fall In Love
2. A Thousand Miles Away (feat. Take 6)
3. Stay
4. I Only Have Eyes For You
5. Up On The Roof
6. I'll Come Running Back To You (feat. Brian McKnight)
7. Tears On My Pillow (feat. Brian McKnight)
8. A Sunday Kind Of Love (feat. Brian McKnight)
9. Anyone Who Knows What Love Is (feat. Amber Riley)
10. Ladies Man