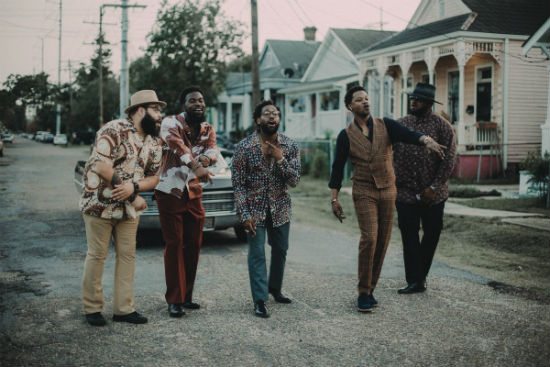 Singer/songwriter/producer/multi-instrumentalist PJ Morton continues to serve from his bottomless pot of Gumbo. The release of the single "Everything's Gonna Be Alright" featuring BJ The Chicago Kid and The Hamiltones, was a tasty appetizer, prepping our palettes for the release of the full album. While we are still full and rubbing our musical bellies from Gumbo's soulful goodness, PJ offers another course, taking this melodious meal to a whole new level.
The accompanying visual somehow injects even more life into the standout track. We watch as all five gentlemen stroll along a NOLA street singing along to the song while dressed head-to-toe in the finest polyester and loud prints from the '70s. Performance shots of the Live Show Killer and his band cranking out the song at a house party before a carefree, dancing crowd are included. We also catch glimpses of Morton perched in a wicker chair, decked out in a dashiki, passionately and unapologetically singing along. Much like the track itself, it all evokes a feeling of warmth, hope and community and perfectly embodies the resilient spirit of the people and the city of New Orleans.
Morton opted to leave Los Angeles and record the album in his hometown at the Parlor Recording Studio for just that reason. "When I got back [to New Orleans], everything went into second gear, because I was in my element," he says. "I was away from any expectations. I had a warm welcome from the culture and the community. It really freed me." Further, if the way in which the video is captured looks a bit familiar, it is for good reason. The visual was directed by Cinemadona, who is best known for her cinematography work for Beyoncé's Lemonade, and is a perfect pairing for the organic and vintage feel of the track.
Get your helping of this good soul food, and check out the video for PJ Morton's "Everything's Gonna Be Alright" featuring BJ The Chicago Kid and The Hamiltones right here. Look for tour dates on Morton's website, and be sure to catch him in your city now through October.