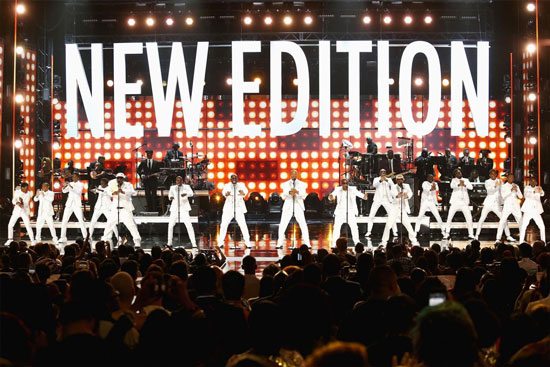 The highlight of every BET Awards is usually the bestowing of the Lifetime Achievement Award on a legendary artist and the tribute performance to follow, and the BET Awards 17 was no exception. This year's Lifetime Achievement Award recipient was none other than New Edition, and after the amazing year they've already had, this was the cherry on top of their 2017, which is far from over.
The cast of Girls Trip strutted on stage to introduce the 2017 Lifetime Achievement Award winners. Regina Hall, Tiffany Haddish, Queen Latifah and Jada Pinkett Smith all exchanged witty banter about NE and their favorite members while Ralph Tresvant, Bobby  Brown, Ronnie DeVoe, Ricky Bell, Michael Bivins and Johnny Gill beamed with pride from the front row. A video montage followed with showers of praise from a who's who in soul and R&B, from producers Jimmy Jam, Terry Lewis and Kenneth "Babyface" Edmonds to artists such as Usher, Erykah Badu, Tank and fellow Bostonians New Kids On The Block who admitted that without New Edition, they wouldn't exist.
The video ended, and we returned to the live show at Microsoft Theater. Little did we know that the show was about to get all the way live with the tribute performance. Kicking things off was the adolescent cast of The New Edition Story who performed on a stage that was transformed into the "Roxbury Talent Night." Tyler Marcel Williams, Dante Hoagland, Caleb McLaughlin, Myles Truitt and Jahi Di'Allo Winston reprised their roles as young NE and sang their precious little hearts outs to "Candy Girl."
The youngsters were a tough act to follow, but Algee Smith did just that. He fell back into character as Ralph Tresvant and sang "Sensitivity" with all the style and flair of Rizzo himself who sat in the audience and looked satisfied at what he was seeing. Upon Algee's exit, Luke James entered to perform "My, My, My" and he wowed us yet again with his vocals and stage presence as we watched him become young Johnny Gill. After Luke got everyone in a mellow mood, Woody McClain bounced onstage to turn up much like Bobby Brown would have done back in the day to perform "My Prerogative." Woody had B. Brown's moves down by law even though he didn't sing all the words. He jumped down into the audience to sing to Bobby who grabbed the mic and gave Woody an assist. "My Prerogative" smoothly segued into Bell Biv DeVoe's "Poison" and the party onstage only got more intense with Keith Powers, Bryshere Gray and Elijah Kelley stepping into the air-brushed overalls of BBD. Judging by the standing ovation that the fellas received at the end of their performance from all six members of New Edition, it's safe to say that they killed it.
The ladies of Girls Trip came back out with the Lifetime Achievement Awards in hand and presented them to New Edition who happily accepted the crystal trophies. One by one, the group members gave their passionate acceptance speeches. Johnny started preaching and dropped a dime that New Edition would be going on tour in November. Bobby thanked people for standing by him through all the ish he's been into and through. Ralph ended his speech with jokes, telling everybody to cop his nonexistent new album, Rizzo, It's Lonely At The Top. Biv brought their manager Brooke Payne onstage to share in their moment before they all exited the stage.
If you thought that was all, then you were in for a surprise of a lifetime when New Edition returned to the stage to perform after a brief pause. Dressed in all white suits with sequined lapels, the guys were white party ready. (Bobby being Bobby Brown, he had to add a little extra to his outfit and rocked an ocelot as an accessory.) They were quite a sight and sounded as amazing as ever singing "Mr. Telephone Man," "Can You Stand The Rain" and "If It Isn't Love." It was that last song that turned this performance into a magical, memorable, epic extravaganza when the group was joined onstage by both sets of actors from The New Edition Story. Seeing three generations of New Edition performing together on one stage was a dream come true. The vocals were on point, but it was the in-sync choreography of the 17 boys to men that took this to another level. Heaven must be like this.
- Advertisement -