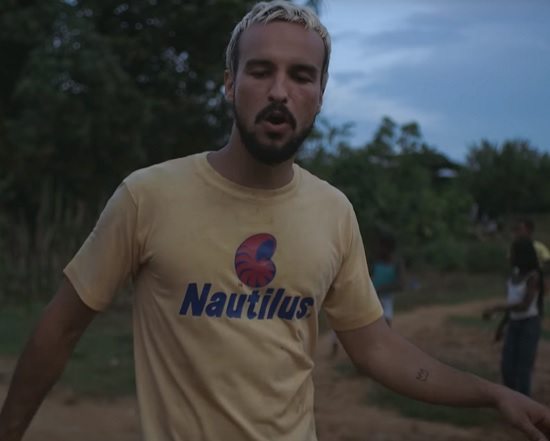 This year has provided us with some great musical moments, one of which was Gabriel Garzón-Montano's debut LP Jardín. Many of the album's moments transfixed us, including "Sour Mango" and "Crawl." However, one that definitely left a lasting impression was the soulful stunner "Bombo Fabrika." Now, the song is the latest from the album to get the video treatment.
For the clip, Gabriel headed to Palenque, Colombia, to get in touch with his roots (the singer-songwriter is of French and Colombian heritage). In doing so, he not only captured the beauty of the Colombian city's landscape but also that of the people who call it home. The video captures the beautiful, verdant countryside of the town, with him performing among the trees and the hillsides. It also shows him and the locals dancing and swaying to the song with large smiles on their faces. But Gabriel isn't always the focus of the camera, with parts of the video on life in the town, such as kids riding horseback on the dirt roads and people partying the night away in a nightclub. In a way, it's Gabriel's own love letter to Palenque.
"Palenque is a magical place — people blasting music and playing drums and singing everywhere — expressing more joy than I've seen or felt in my whole life," Gabriel said in a statement. "'Bombo Fabrika' is about the place I go to when I write music. The music is not mine, it flows through me from a source much older and wiser than my body. Palenque is famous for originating some styles of Cumbia music which I've been greatly influenced by. Filming this video in such an energetically potent musical birthplace was an incredible and humbling experience. Creating a bridge between Colombians living in NYC and Colombians living in Palenque was beautiful."
If it isn't obvious from the statement that Palenque left an impression on him, it's probably evident in the fact that the singer has created merchandise inspired by his trip and is donating 100 percent of the proceeds to music programs in the town. You can check out the t-shirts here and check out the video for Gabriel Garzón-Montano's "Bombo Fabrika" below.