Big Boi has had a few steady offerings this spring, prepping for the release of his third solo album Boomiverse. This week the rapper revealed the album cover art, and if it's any indication of what we can expect, it's sure to be out of this world. The space-inspired artwork is simple enough, showcasing Big Boi's head surrounded by stars with a mysterious red box in front of him. We won't have to wait too long to hear what type of cosmic musings the ATL-ien has in store for us since the album drops in less than two weeks on Friday, June 16th.
So far we've received lead singles "Mic Jack" featuring Adam Levine and "Kill Jill" featuring Killer Mike and Jeezy with big budget music videos for both. The new album includes more collaborations with Sleepy Brown, Gucci Mane, Curren$y, Kurupt and a posthumous verse from Pimp C. While there's no sign of Andre 3000 on the tracklist, we're pretty sure that Big Boi will hold it down for Outkast fans.
According to Big Boi, Boomiverse is going to be a double album. This release is part one, with part two scheduled to be released at a later date. Boomiverse arrives on June 16th and you can pre-order it and get some matching merch over on Big Boi's website. Check out the album tracklist below to help you make your decision.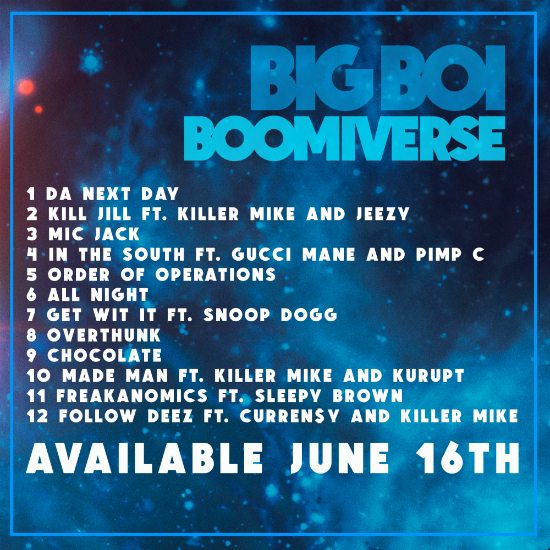 Big Boi Boomiverse tracklist:
1. Da Next Day
2. Kill Jill [ft. Killer Mike and Jeezy]
3. Mic Jack [ft. Adam Levine]
4. In The South [ft. Gucci Mane and Pimp C]
5. Order of Operations
6. All Night
7. Get Wit It [ft. Snoop Dogg]
8. Overthunk
9. Chocolate
10. Made Man [ft. Killer Mike and Kurupt]
11. Freakanomics [ft. Sleepy Brown]
12. Follow Deez [ft. Curren$y and Killer Mike]

- Advertisement -