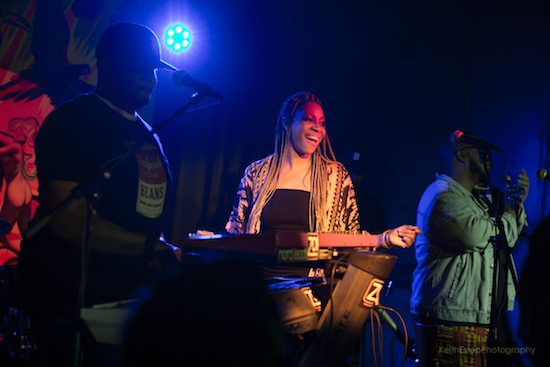 It was a lituation when Zo! and Carmen Rodgers brought the SkyBreak Tour back to the DMV on Thursday, May 4th to Washington, D.C. hotspot Tropicalia. Earlier in the evening Aaron Abernathy and his band Nat Turner set things off by taking everyone to a soul revival. When Zo! and Carmen Rodgers finally stepped on stage, however, it was party time.
Joined by guest vocalist Nicholas Ryan Gant, members of the band Collective Peace on various instruments and guitarist Zachary Cutler, the energy was high from the first note to the last. Songs from Zo!'s most recent album SkyBreak, previous release ManMade and more selections were brought to life by Carmen and Nicholas on vocals. In a plot twist, Zo! even got on the mic to rap and sing, and he sounded great doing both. During one particularly entertaining moment in the show, "Packing For Chicago" extended into a house music jam session with house classics "Coffee Pot (It's Time For the Percolator)" and "Whores In This House" blended in and Zo! taking the hilarious lead.
Carmen Rodgers dug into her crates to perform the emotional "It's Me" and "Charge" with Gant who proved to be the perfect duet partner. More jams followed, such as "Lifelines," "We Are On the Move" and "Just Whatcha Like" that had the audience body rolling and two-stepping at the same damn time. The last song of the show was the mostly instrumental groove "Flight of the Blackbyrd" from SunStorm that gave everyone on stage an opportunity to shine. It was the perfect way to end a night where the good times most certainly rolled.
no images were found