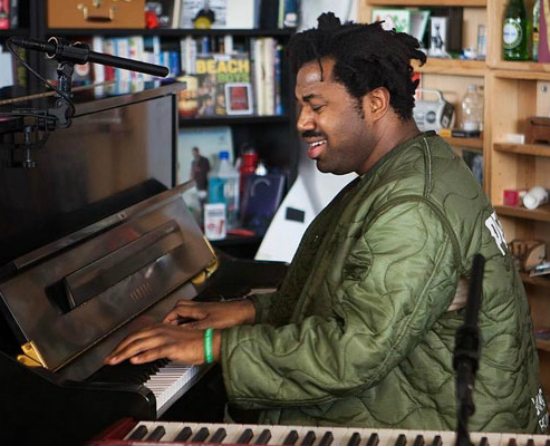 Sampha took at seat at the piano for NPR Music's Tiny Desk Concert series recently during the Washington, D.C. stop of his North American tour run. The British singer, songwriter and producer performed a few tracks from his debut album, Process, in the intimate office space to an audience ready to hear and see him live. As usual, the temperature of the office was a little on the warm side, mainly due to the large number of fans (including the SoulBounce crew) Sampha has gained in a short period of time. Throughout his performance, the singer switched between a keyboard and a piano, looking down at the keys the majority of his gig and singing with his eyes closed, lost in the music.
He opened the performance with "Plastic 100°C," which was an uptempo intro to his pure and unique vocals. "This song is just an ode to the piano and also me kinda reflecting on how important my mother was in my life," he said, introducing the next single, "(No One Knows Me) Like The Piano." The track was emotional as Sampha took his time singing the ballad effortlessly. For the last track, Sampha chose "Blood On Me," where he improvised ad libs and brought the energy back up. Showcasing his easy mastery of the keys and vocals, Sampha left the NPR audience in awe. While the singer didn't stick around to chop it up with his fans, he left his mark on the Tiny Desk series and us.
You can find out where Sampha will be next when you visit his website. The singer is still on tour, and heads to the U.K. this month and comes back stateside in time for Coachella in April. If you haven't already, order Process on Amazon, iTunes and Google Play and watch Sampha's NPR Tiny Desk Concert performance right here.