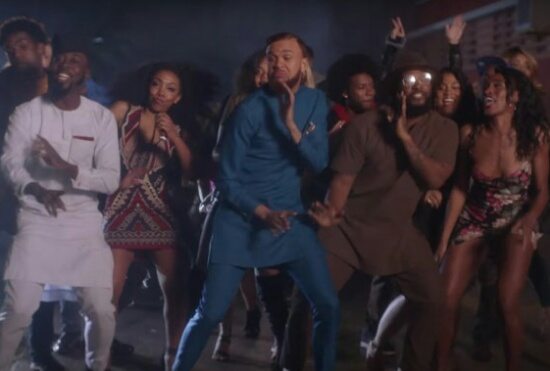 Last week, Jidenna decided he was finally ready to announce a release date for his highly anticipated debut album, Chief. In addition to informing us of its right-around-the-corner February 17th drop date, he also shared two new tracks, the seductive "Bambi" and "The Let Out," an infectious club banger featuring Quavo of infamous Atlanta rap group, Migos. As The Chief's Friday release inches ever closer, we are now treated to a video for the latter, which is a hilarious take on the fine art of balling on a budget and parking lot pimping.
The video for "The Let Out" is a fun clip that grants the viewer a first-person experience of what it's like to hang out with Jidenna and his entourage. The clip starts with the viewer walking into Jidenna's home where friends and family are gathered around a table passing food and cracking jokes. Family members talk junk to the camera while smacking food and displaying much attitude. Next, Jidenna and everyone on the way to the club pack up 10 deep in a 4-seater Honda Civic. Finally, they arrive at the club for some parking lot pimping and some light crowd surfing. Unfortunately, the first-person experience doesn't quite hold up once Jidenna and company roll up to the parking lot, because it's obviously up to you to make your own fun at that point. While Jidenna's co-star on the track Quavo doesn't make an appearance in the video, a fun time is still had by all.
While Jidenna has released an onslaught of videos in anticipation of his debut album, from "Long Live the Chief" to "Knickers" to "Little Bit More," "The Let Out" stands out for its sense of humor. It's great seeing another side of the "Classic Man," as we eagerly await his album dropping soon.