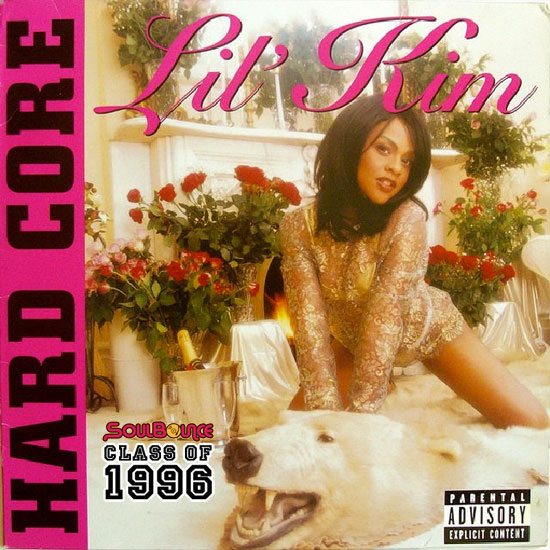 From the opening moments of Lil' Kim's debut album, Hard Core, it was evident that this wasn't going to be your regular rap experience. Sure hip-hop had already ventured into sexually explicit material thanks to music by the likes of the 2 Live Crew and even H.W.A. had already put sexually empowered women in the spotlight with the release of their 1990 debut Livin' In a Hoe House. However, no one was prepared for the diminutive Brooklyn MC who chose a skit that centered on a moviegoer purchasing a ticket to (and later enjoying himself at) a screening of an adult film featuring herself as the flick's lead character as the album's opener. However, it was Kim who was ballsy enough to do so with Hard Core's "Intro in A-Minor."
That pretty much set the stage for the rapper, who had first been introduced to hip-hop audiences as a part of the Notorious B.I.G.-affiliated Junior M.A.F.I.A. one year earlier. Her feminine braggadocio quickly garnered her fans far and wide, as male fans were drawn to the tough sexuality that she exuded and female fans suddenly found themselves with a public figure who proudly expressed that it was ok to be a dominant woman who knew what she wanted in and outside of the bedroom.
The Sean "Puff Daddy" Combs and Stevie J-produced "No Time" served as her official debut solo single, quickly climbing to the top spot on Billboard's U.S. Rap Songs chart for nine weeks and to the No. 9 spot on the Billboard Hot 100. It also climbed to the Top 10 on the Hot R&B Singles chart. Subsequent singles such "Crush on You (Remix)" and "Not Tonight (Remix)" would further propel her to the top, with a remix of the latter featuring Da Brat, Missy Elliott, Angie Martinez, and Lisa "Left Eye" Lopes eventually going platinum and earning her a GRAMMY nod in 1998 in the process. The nomination made Lil' Kim only the second female act to be nominated in the Best Rap Performance for a Duo or Group category behind Salt-N-Pepa.
While it's been long-rumored that Biggie provided the pen for much of Hard Core's lyrics, one thing's for certain: Kim's charisma and unabashed sexuality were the real deal. There was no faking for the woman bold enough to name drop R&B acts like D'Angelo, Prince and Brian McKnight as just a few of the famous people she'd love to get physical with on "Dreams." Or the woman who proved herself the ultimate ride-or-die chick both on wax and in real life when we later learned she had been involved in a long-term relationship with Biggie, despite his marriage to singer Faith Evans. Her candor would attract fans far and wide, driving Hard Core to double platinum status and laying the blueprint to Lil' Kim's prolific career.
Lil' Kim Hard Core [Amazon][iTunes][Google Play]
- Advertisement -