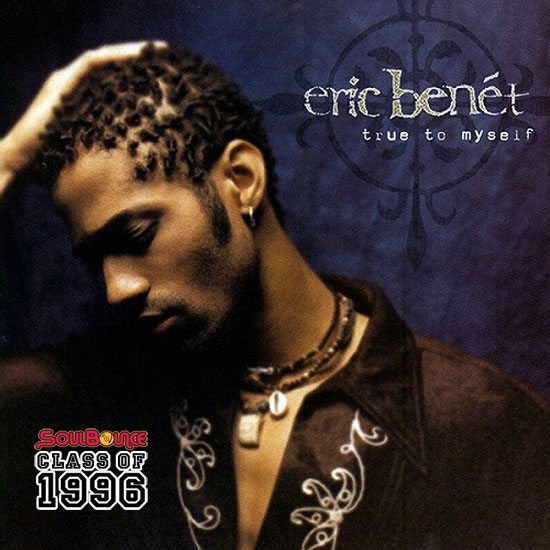 After a stint as part of Benét alongside his sister and cousin in the early '90s and collaborating with Jeff Lorber in 1994, Eric Benét was primed and ready to step out on his own. 1996 proved to be his year to do just that with the release of his debut solo album True to Myself.
Released in September 1996, True to Myself was a breath of fresh air, with funk and rock-inspired R&B at a time when popular R&B was enjoying a highly profitable courtship with hip-hop. To say the dreadlocked, barefoot crooner stood out like a sore thumb would be an understatement. However, he quickly proved his ability to keep the attention on his music with his powerhouse vocals and earnest lyrics. The album spawned several charting singles, including "Spiritual Thing" and the album's biggest single, "Femininity." The album got a further push when singles "True to Myself" and "Let's Stay Together" were featured on two major movie soundtracks, Batman & Robin and Thin Line Between Love & Hate.
While the singles set the stage for Benét's success, it would be on album cuts like "While You Were Here" where he would shine the most. The heartwrenching song centered on the loss of Benét's girlfriend and the daughter she left behind that provided a perfect vehicle for the singer's voice to soar, making it a crowd favorite at his early live shows. Produced and mostly written by Benét, George Nash, Jr. and Demonte Posey, True to Myself also allowed Benét to flex his writing skills as he tackled a wide array of subject matter from individuality to social injustice.
The approach clearly worked. Since then, he's gone on to release six more studio albums, including his most recent self-titled opus and tours the world regularly. Though he eventually ditched the locs and made his way to a shoe store, he continues to maintain the same level of top-notch quality that our ears fell in love with back in 1996.
Eric Benét True To Myself [Amazon][iTunes][Google Play]
- Advertisement -