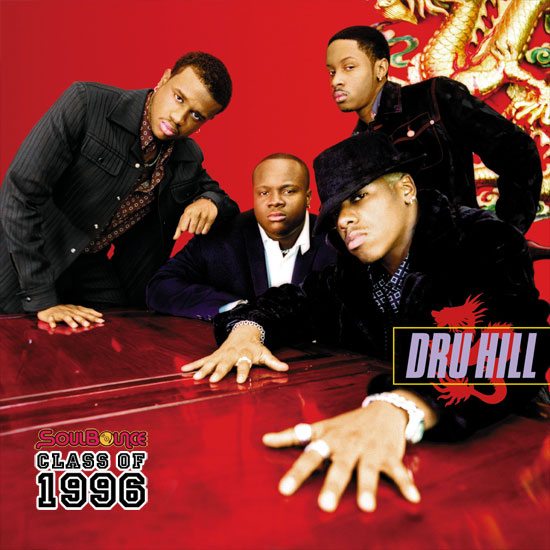 While the 1990s were a renaissance for movie soundtracks, there are quite a few that nobody remembers — and for good reason. One such soundtrack was the one for Whoopi Goldberg's forgettable sports comedy Eddie. In fact, the only thing memorable about the whole affair was "Tell Me," a little song that helped launch the careers of four friends from Baltimore that the world would come to know as R&B group Dru Hill. "Tell Me," which took the group to the No. 5 spot on the Hot R&B Singles chart and within the Top 20 on Billboard's Hot 100 after its August 1996 release, helped usher in the quartet's self-titled debut the following November and set them on a collision course with fame.
Dru Hill found the foursome walking in the lane between the clean-cut sound of Boyz II Men and the raunchy soul of Jodeci, launching an epic four-single run. After "Tell Me" came the infidelity jam "In My Bed," in which the fellas questioned their lady's loyalty with both a slow jam version and an upbeat So So Def remix featuring Jermaine Dupri and Da Brat. The appeal of both worked their magic, allowing the group to sit atop the Hot R&B Singles chart and notch their highest position on the Hot 100 chart at No. 4. Their reign over the R&B charts continued with the next release, "Never Make a Promise," the sweet ballad that had fans swooning at the group's devotion. Meanwhile, the final single released from the effort, "5 Steps," tied "Never Make A Promise" on the Hot 100, with both singles peaking at No. 7.
The success of the singles, as well as beloved album tracks like "April Showers" and "All Alone," coupled with the foursome's tight harmonies and loverman overtures propelled Dru Hill to a No. 23 peak position on the Billboard 200. It also guaranteed a wider audience for the group's sophomore release, Enter the Dru, which broke expectations to claim the No. 2 spot on the same chart in 1998, and sowed the seeds for frontman Sisqo's successful solo effort Enter The Dragon. Like all groups, Dru Hill would undergo personnel changes throughout the years, with Woody exiting and new members Scola (who would also leave) and Tao coming into the picture. But, as evidenced by their recent appearance at this year's Soul Train Awards, Dru Hill has still got it and we look forward to whatever their next step might be.
Dru Hill Dru Hill [Amazon][iTunes][Google Play]