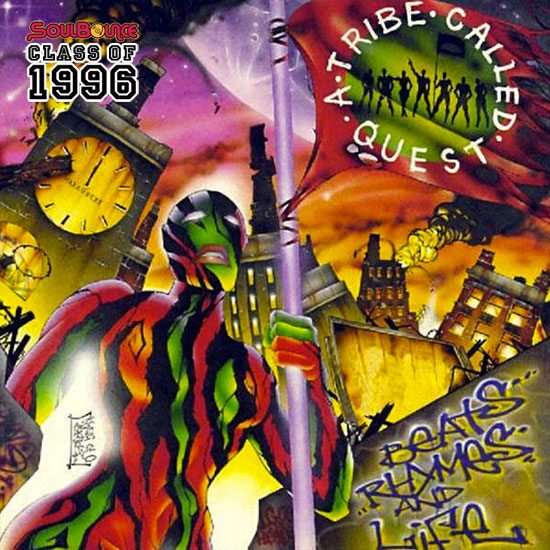 On July 30, 1996, the one and only A Tribe Called Quest released their album Beats, Rhymes and Life.  The group's fourth album was released three years after their classic Midnight Marauders and six years after their debut album, People's Instinctive Travels and the Paths of Rhythm. During this time, the rap genre was in a bit of a civil war, fueled by media-spun conflict between the East and West coasts. In the midst of all that commercial chaos, the Tribe out of Queens, New York, composed of MC/producer Q-Tip, DJ/producer Ali Shaheed Muhammad and MC Phife Dawg, were (and still are) regarded as the pioneers of "alternative" hip-hop music, which served as a sharp and more artistic contrast to hardcore and gangsta rap, as well as the "shiny suit" era of the time. The group continued their surge and solidified their stance with a seamless fusion of jazz, funk and hip-hop on Beats, Rhymes and Life.
The album is often referred to as a "misunderstood classic," as many fans were taken aback by the seemingly dark tone of the album. It was a dedication of sorts to the hip-hop underground and prominently featured Q-Tip's cousin Consequence and production from J Dilla, who alongside Q-Tip and Ali Shaheed comprised The Ummah production team. Although the album featured the catchy single "1nce Again" and "Stressed Out," was nominated for a GRAMMY in the Best Rap Album category and was certified platinum, it wasn't as widely revered as the previous three by many. The pivotal album shares the same title of a 2011 documentary, directed by Michael Rapaport, which detailed the past, present and uncertain future of one of hip-hop's most influential and legendary groups of all time.
This year, A Tribe Called Quest dropped arguably the year's most highly anticipated album entitled, We got it from Here… Thank You 4 Your service, which reunited them with original member Jarobi White and featured musical contributions from Busta Rhymes, Elton John, Kendrick Lamar and Andre 3000. Though founding member Phife Dawg passed away before the album's completion, fans were still able to get one last taste of his genius, with plenty complimentary head nods in his honor.  Whether you consider Beats, Rhymes and Life a misstep or another jewel in the crown of hip-hop's most progressive social commentators, the album will always serve as a crucial highlight in the group's catalogue.
A Tribe Called Quest Beats, Rhymes And Life [Amazon][iTunes][Google Play]