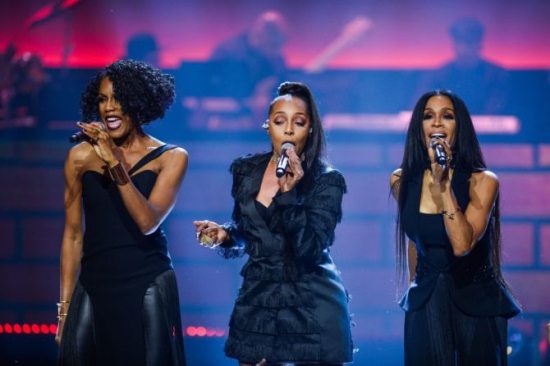 After a lengthy hiatus from our television screens, it was once again Showtime at the Apollo last night on FOX. The seminal series, which became a staple in Black households after in debuted back in 1987, consistently brought the best of R&B, soul and hip-hop into our living rooms while also introducing us to talented (and not-so-talented) up-and-comers via its celebrated Amateur Night showcase. The new two-hour special reminded us of the show's glory days and brought with it some blasts from the past and present.
Comedian Steve Harvey resumed hosting once again as he introduced a who's who of performers, including Flo Rida hyping up the crowd and Anderson .Paak and his band who got the stage hot with T.I. for a performance of his single "Come Down." However, the night truly belonged to the veterans, with Ashanti and Ja Rule reuniting for their Hamilton Mixtape track "Helpless," rappers Doug E. Fresh, Rakim, Busta Rhymes and Swizz Beatz coming together to rep for hip-hop, John Legend serenading the crowd and '90s R&B groups Jodeci, En Vogue and Bell Biv Devoe taking us back in the day.
While the entire special is available to stream right now via FOX On Demand and the FOX NOW app, the network has made three performance clips available via YouTube, Anderson .Paak's fiery set, Ashanti and Ja's cutesy performance and En Vogue performing their 1992 classic "My Lovin' (Never Gonna Get It)." You can catch each performance below and we'll add others as they become available.
Another hour-long Showtime at the Apollo special is set to air early next year and will feature even more show-stopping performances (and there's even talk of a reboot in the works), so be sure to mark your schedules accordingly.