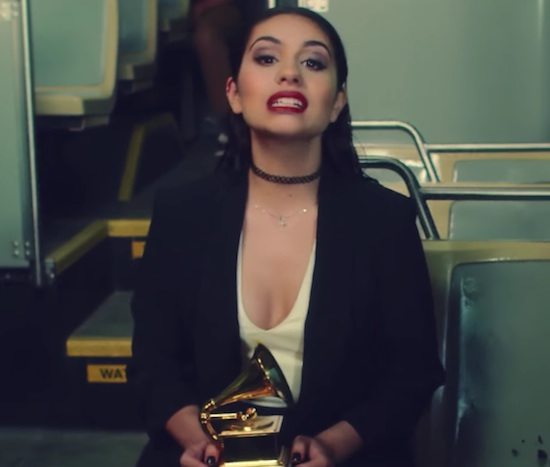 After her breakout year in 2015, Alessia Cara kept the momentum going for most of 2016. The 20-year-old Canadian has toured extensively this year (including with Coldplay), sang the theme song to Disney's Moana (penned by Lin-Manuel Miranda) and is currently up for a People's Choice Award for Favorite Breakout Artist (well, excuse us). Cara is ending her year with one last feat, with the music video for her song "Seventeen."
Taken from her debut album Know-It-All, "Seventeen" finds Alessia singing wistfully about being 17 years old and the life lessons that her parents taught her. The visual for the song takes place on a city bus and follows Alessia through the years from childhood to adulthood. We see little girl Aleesia riding alongside her dad, before Cara plays herself as a tween, teenager and young adult holding her GRAMMY in her hands. Alessia continues to mature into an adult and the GRAMMY she's holding is now a baby. That child grows and accompanies an older version of Cara for the bus ride before we see a middle-aged version of the singer sitting by herself.
Filled with Alessia Cara's real-life family members, the singer shared on Facebook that she wanted this video to, "remind u to enjoy all the little moments in life, especially this time of year." Job well done, Alessia.